Frank Lampard signed for Chelsea in the summer of 2001, the very same summer I returned as a season ticket holder to Stamford Bridge having been absent for several years. As a consequence, 'Super Frankie Lampard' is the first Chelsea player whose entire career I have witnessed first hand.
To say I'm immensely privileged to have witnessed his Chelsea career is a massive understatement.
Of course he is the club's highest goal scorer with 211 goals – remarkable for a midfield player. He is also the club's third highest appearance maker with 648 appearances. He has won three Premier Leagues; four FA Cups; two League Cups; a Champions League and a Europa League. No Chelsea player has won more caps for their country – 101 to date – whilst playing for Chelsea.
No Chelsea player has won Player of the Year more times than Frank (three). He scored 20 or more goals for five consecutive seasons, 10 or more goals in ten consecutive seasons (both records) and has supplied the second-highest number of assists in Premier League history. Frank also made a record-breaking 164 consecutive league appearances between 2001 and 2005, still the highest for an outfield player. And of course he made an impact on the world stage as runner-up in the FIFA World Player of the Year and European Player of the Year.
Chelsea fans all have favourite memories of Frank's goals and performances. His goal against Lazio in the Champions League early in his Chelsea career: the goals that won our first title in 50 years at Bolton and then following it up by doing the same the next season, the amazing goals against Bayern Munich and Barcelona, his performance in a losing cause against Utd in the Champions' League final in the torrential rain of Moscow and the raw emotion of the penalty against Liverpool days after he'd lost his mother.
That lenghy list will also include the pass to Drogba for the winning goal in the Cup Final against Utd, the winner in the Cup Final against Everton (I was right behind the goal for that one and it was special), the superb defence splitting pass to Ramires who's sublime chip helped get us past Barcelona in the semi-final before we famously went on to finally lift the European Cup in Munich and the unforgettable elation and emotion of his record breaking goal away at Aston Villa.
Quite simply Frank Lampard is the greatest player I have seen, and I suspect ever will see at the club. How on earth do you replace Frank Lampard and is it a fool's errand to attempt to replace him at all?
Within the side, I believe we have in Oscar, a player who could potentially take over Frank's role, if not directly replace him. I recall remarking shortly after Oscar signed for Chelsea that he was a player who could be the best player in the world within a couple of years. Interestingly, Oscar cited Frank as an idol of his, and the fact that he was at the club played a major part in Oscar's decision to sign.
It is true that his form dipped somewhat in the second half of last season, although that could be down to the fact that he is exhausted from playing non-stop for the last three to four years. More cynically, he may well have been saving himself for Brazil and the World Cup in his home country – a once in a lifetime opportunity for a player, to be fair.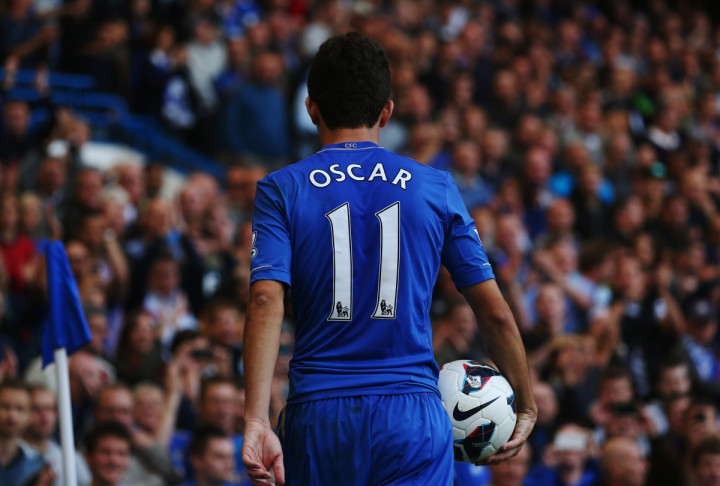 But could he be a direct replacement for Frank? Only time will tell. The problem at the moment is actually nailing down his best position in the side. He could be the number 10 playing behind the striker (Frank played a similar role and foil for Drogba of course).
Alternatively he could dictate the rhythm of the side by sitting deeper and playing both long and short passes. Like Frank he can also tackle and is not shy of the physical side of the game. He has an eye for goal and can also strike a free kick, so the comparisons are easy to make. But, and it's a big but – can he do it for the club for 13 years and bang in the goals at the rate Frank has?
Coming up from the youth ranks at Chelsea is as rare as a Premier League title for Liverpool! Many of us had high hopes for young Josh McEachran, but sadly it looks like he has fallen by the wayside.
Looking at Chelsea's recent Youth Cup and League success, one hopes that Lewis Baker might get the chance to turn his potential in to something more tangible. A two-footed creative and technical midfielder, Baker had a phenomenal season for the Under-21 side, captaining them in the absence of Todd Kane. He won the Chelsea Young Player of the Season award, scoring vital goals during the season including the winning goal to clinch the Barclays Under-21 Premier League title against Manchester United at Old Trafford and two in Chelsea's 4-3 NextGen semi-final win over Arsenal, one of which deservedly won Chelsea's Goal of the Season and was Zola-esqe in its execution and audacity. He made the subs bench for the first team in the Capital One Cup win against Swindon, and came on for the last few minutes in the FA Cup match against Derby, so he is clearly on Jose Mourinho's radar.
One fears that the chances for the likes of Lewis Baker will be few and far between unless there is a massive sea change in how the club brings talented youth players into the side. Will Roman Abromovich and the board have the patience to allow Jose Mourinho to do this? More to the point, will Jose have the fortitude to stand up them in order to do this?
I have a bigger fear that Chelsea are lurching towards becoming a club populated by 'galacticos' who believe they are here to grace us with their presence for a few years before succumbing to a juicy deal at Real Madrid, Barcelona or Paris Saint Germain. With the departure of stalwarts of the club such as Ashley Cole and Frank Lampard (and John Terry and Petr Cech in the not too distant future), we may face a merry-go-round of star names playing for the club for a few seasons rather than building a career and leaving a legacy.
Since Frank's announcement we have already been linked with the likes of Fabregas, Koke and Pogba. All decent players, but are they or will they be in Frank Lampard's class and could any of them make the impact on the vlub that Frank did for 13 years? I very much doubt it.
Frank is an old school player in many ways. He is a great professional; he has a great work ethic; he is a team man, a big game player and a great, great goal scorer. He is also superb with the supporters, is intelligent and shows humility, something almost anachronistic in this day and age. Players like Frank get the club and more important they get us, the supporters. Frank's departure means that apart from John Terry there are no pre-Roman players left at the club. I believe we will not see their like at the club again.
So, if you are going to replace a player like Frank Lampard, as well as the phenomenal record of goals, assists, and performances that helped to win so many trophies, you have to replace all of that too. And that for me makes Frank Lampard irreplaceable.
David 'Stamford Chidge' Chidgey presents the award winning Chelsea HYPERLINK "http://chelseafancast.com/"FanCast TV show and podcast which can be seen every Monday at 19.00 on chelseafancast.com or You Tube or heard at mixlr.com/HYPERLINK "http://mixlr.com/chelsea-fancast/"chelsea-fancastHYPERLINK "http://mixlr.com/chelsea-fancast/"/ or downloaded from ITunes. Follow us on twitter @HYPERLINK "https://twitter.com/StamfordChidge"StamfordChidge and @HYPERLINK "https://twitter.com/ChelseaFanCast"ChelseaFanCast