The family of Oscar Pistorius have begun a public feud over gun ownership in South Africa, with members clashing over the reasons why they own firearms.
Henke Pistorius, the Paralympian athlete's father, said the family owned guns for self-defence because, he claimed, the African National Congress government did little to protect white people in South Africa.
His comments follow news that the men in the Pistorius family own more 55 guns between them.
"Some of the guns are for hunting and some are for protection - the handguns," Henke told the Daily Telegraph.
"It speaks to the ANC government: look at white crime levels, why protection is so poor in this country. It's an aspect of our society.
"You can't rely on the police, not because they are inefficient always but because crime is so rife. I have been in positions where I can use a gun but we have been brought up in a way that we value the lives of others very highly."
But the Olympian's uncle, Arnold Pistorius, publicly refuted his brother's comments. He said Henke's opinion did not represent the rest of the family's feelings on gun ownership.
He said: "Oscar Pistorius' family is deeply concerned about the comments made by Oscar's father, Henke Pistorius, about the family using its weapons to defend themselves against crime in South Africa, and especially about his comments that the ANC government is not willing to protect white South Africans.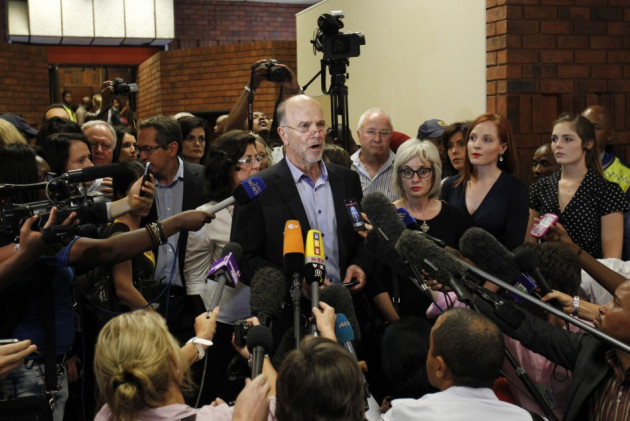 "Oscar and the rest of the Pistorius family distances itself from the comments. Henke's interview with the newspaper was unapproved by our media liaison team. The comments don't represent the views of Oscar or the rest of the Pistorius family."
He added that the family had guns "purely for sport and hunting purposes".
The ANC said: "The African National Congress rejects with contempt the accusation made by Henke Pistorius that the ANC government is not willing to protect white South Africans.
"Not only is this statement devoid of truth, it is also racist. It is sad that he has chosen to politicise a tragic incident that is still fresh in the minds of those affected and the public.
"This tragic incident has affected two families that are still trying to come to terms with what happened and this latest racist slur is not assisting these families.
"We think it is ill-advisable for anyone to start apportioning undue blame."
The athlete is on bail for the murder of his model girlfriend Reeva Steenkamp.
He shot Steenkamp through the door of his bathroom on 14 February. The 26-year-old said he fired because he thought she was an intruder.