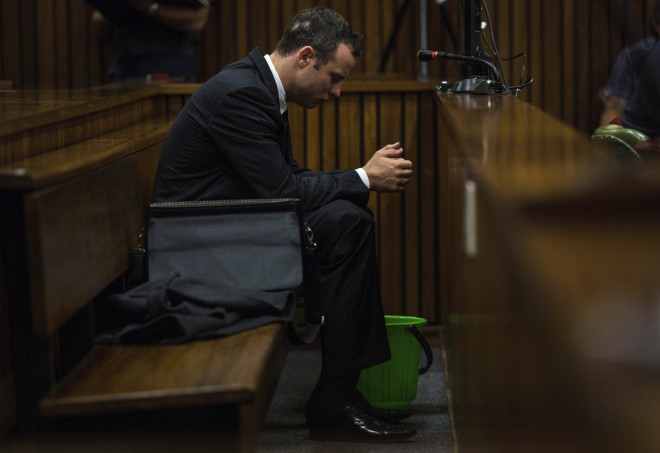 A day after vomiting in court, Oscar Pistorius appeared more composed as he listened to a pathologist give more evidence about the autopsy conducted on his former Reeva Steenkamp.
The fallen track star stayed calm and did not retch repeatedly into a bucket as he did on Monday when pathologist Prof Gert Saayman was questioned in court.
Early proceedings saw Pistorius's lawyer Barry Roux tried to introduce doubts into the pathologist's testimony.
Roux said: "I never understood your evidence to be exact."
Saayman answered: "My evidence was based on probabilities."
Saayman remained calm and collected throughout the encounter with Roux, according to witnesses inside North Gauteng High Court.
But Roux scored one victory when he got Saayman to admit there could a margin of error of up to two hours in the recorded time between Steenkamp's last meal and her death in a hail of bullets fired by Pistorius, last Valentine's Day.
This could yet be significant because the post mortem indicated Steenkamp ate around three hours before her death at around 3am. That threatened to undermine Pistorius's claim that he and his girlfriend were in bed by 10pm on the night she died.
Saayman said the shot fired by Pistorius which hit Steenkamp in the head would have caused "complete incapacitation" for her.
She died after being hit three times by so-called 'dum dum' bullets which Pistorius fired from his 9mm pistol.
Yesterday saw Pistorius overcome by emotion as the court heard Saayman describe how the shells were designed to "open up, flatten out and mushroom when striking human tissue."
During distressing testimony, Saayman said they had wooden splinters in them by the time they hit Steenkamp, having passed through Pistorius's bathroom door at his luxury home in a gated community on the outskirts of Pretoria.
The bullet which hit Steenkamp in the head had splintered in to fragments upon hitting her and parts of it had been driven in to her brain, Saayman revealed.