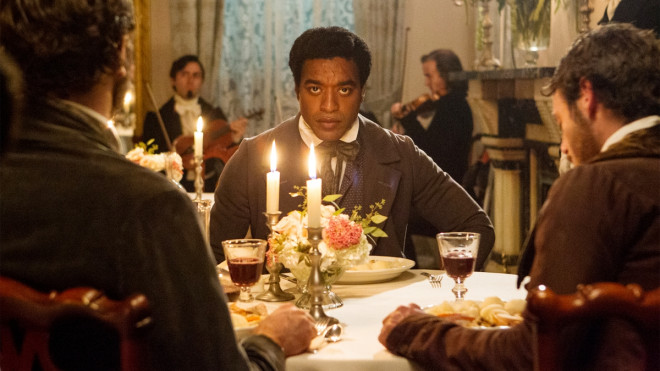 Gravity dominated the 86th Academy Awards, but 12 Years a Slave took home the biggest prize of the night, winning Best Picture.
Alfonso Cuaron's sci-fi thrill ride won seven awards including Best Director and Best Original Score. It also – as predicted – dominated the technical categories.
12 Years A Slave's Lupita Nyong'o won the Best Supporting Actress prize, beating Jennifer Lawrence in the night's closest award race.
Cate Blanchett won Best Actress as expected and Matthew McConaughey completed his career renaissance with a Best Actor win.
Behind Gravity's seven wins were 12 Years a Slave and Dallas Buyers Club with three apiece, followed by Frozen and The Great Gatsby which each won two.
The first major prize of the night went to Jared Leto, who won Best Supporting Actor for his role in Dallas Buyers Club opposite McConaughey.
Host Ellen Degereneres made Twitter history, posting the most retweeted picture ever - a selfie of herself with Bradley Cooper, Jennifer Lawrence, Meryl Streep, Brad Pitt and many more. It currently has more than two million retweets, over double the former holder of the title.
Perhaps the biggest shock of the night was Spike Jonze winning the Best Original Screenplay prize for Her. John Ridley winning the Best Adapted Screenplay award for 12 Years a Slave.
Despite 10 nominations David O'Russell's American Hustle came away empty handed, as did Martin Scorsese's The Wolf of Wall Street.
Frozen won Best Animated Feature and its song Let It Go won Best Original Song, giving us the best acceptance speech of the night from husband and wife writing team Kristen Anderson-Lopez and Robert Lopez.
Italy's The Great Beauty won Best Foreign Language Film while 20 Feet From Stardom won Best Documentary over hot favourite The Act of Killing.
Each of the Original Song nominees performed on the night, including Pharrell Williams who danced with the likes of Lupita Nyong'o and Meryl Streep before inviting the audience to get up and dance to his hit song Happy.
U2 also performed but were overshadowed by Idina Menzel's performance of eventual category-winner Let It Go. Karen O of the Yeah Yeah Yeah's also performed a haunting rendition of The Moon Song from Her.