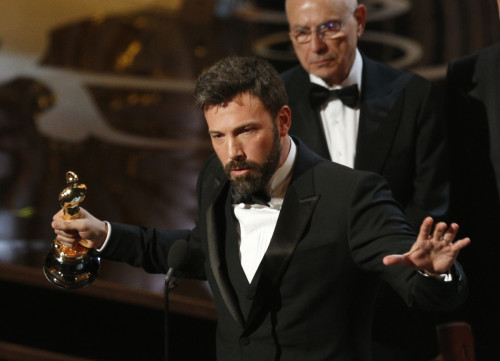 Despite what many actors may say, each of them is at least a little hopeful that they will win a little golden statuette.
While the camera is on them they may well smile as someone else's name is read out, but deep down it's killing them.
If anything could remedy it though, it's a $55,000 (£33,000) gift bag given out to attendees.
Perez Hilton reports the list of items that makes up the gift bag, which includes pet food, designer bracelets, a stay at a Mexican resort and a walking tour of Japan.
The Academy teamed up with Distinctive Assets to put together the take home gift, which they are calling the "Everybody Wins at the Oscars" gift bag.
You don't say...
Here's the complete list in full.
Chocolatines Savory Wine Flight Pairing ($80)
Halo Natural Pet Food ($6,142.89)
Max Martin Shoes ($750)
Dosha Tea-Based Pops ($35)
Blossom Blends Tea ($49.95)
Hydroxycut Weight Loss Products ($38.96)
Narrative Clip Camera ($279)
Polar Loop Activity Tracker ($109.95)
Steamist Home Spa System ($2,560)
M3K Beauty Products ($100)
Best of Vegas Tour Package ($9,000)
Rouge Maple Syrup ($250)
House Call From Nutritionist Heather Lounsbury ($500)
Slimware Dinnerware ($59)
Huntley Drive Fitness Training Sessions ($850)
Le Petit Cirque Troop ($575)
Jan Lewis Designs Bracelet ($400)
Walk Japan Tour of Japan ($15,000)
Epic Pet Health Therapy ($1,571.98)
Acure Skincare ($300)
Rocky Mountaineer Train Trip ($4,078.00)
Gizara Arts Print ($1,000)
Jitseu Handbags ($279)
Imanta Mexico Resort Stay ($3,300)
Koala Landing Resort Stay in Kauai ($2,000)
Aviv 613 Vodka ($30)
This year's Oscars ceremony takes place on Sunday 2 March.