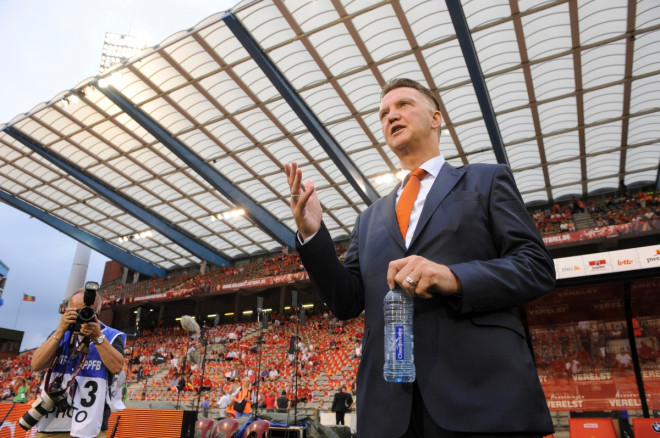 "I am who I am: confident, arrogant, dominant, honest, hard-working and innovative."
Those were the words of Louis van Gaal upon his appointment as Bayern Munich manager in 2009. It largely summed up the man who has bewildered and enthralled in equal measure for most of his career, one that sees him stand as one of the most decorated coaches of the modern era.
The 62-year-old has been installed as the favourite to replace David Moyes at the Manchester United helm following the Scot's dismissal. The club's insipid campaign has – among other things – been attributed to the lack of experience their now-former manager possesses in the upper-echelons of the game, something van Gaal has in abundance.
A CV that includes seven league title across four countries, three domestic cups, one Champions League and a UEFA Cup would seem to answer those concerns at Old Trafford. It sounds like an ideal remedy to United's woes. But will the Dutchman's enigmatic approach strike a chord in the red half of Manchester?
IB Times UK consider some of the more controversial moments in van Gaal's past that have rocked the boat at his previous destinations.
1) "Louis, meet Gerard."
The boisterous van Gaal was introduced to one of Barcelona's brightest prodigies during his second spell in charge of the Catalan giants in a meeting the youngster still hasn't forgotten. Gerard Pique, whose grandfather served on the board of directors, was introduced to the Dutchman as a 14-year-old during a meal.
After the introduction was made, without missing a beat, van Gaal stood up and pushed the gangly teenager over, barking: "You are too weak to be a Barcelona defender!"
How did Pique respond? "I felt devastated. I didn't open my mouth for the rest of the meal," he recalled a few years later.
2) The Riquelme blunder
In 2002 Barcelona were in urgent need of a revival and it appeared one was on the horizon as van Gaal returned from an ill-fated first spell as Holland manager to take the managerial reins at the Camp Nou once again.
His arrival was soon followed by the signing of Juan Roman Riquelme from Boca Juniors. The man voted Argentine Footballer of the Year two years running before his move to Cataluña would spark the club back into life, or so the plan was.
Never one for following the script however, van Gaal ostracised the no. 10, insisting his arrival was a "political signing" made by the club without his knowledge. He consistently omitted the Argentine from his starting line ups despite the club's abysmal campaign and in a move that horrified football purists everywhere, forced Riquelme to occupy a spot on the wing, a fate which also befell Rivaldo during van Gaal's first spell in charge.
"You're the best player when you have the ball, but when you don´t we play with one less," van Gaal told the Argentine on his arrival. The two never did see eye to eye and it took a move to Villarreal for Riquelme to truly blossom in Europe and carve a reputation as one of the best number 10s of his generation.
3) Louis has the balls for the job
Another example of van Gaal's rather peculiar approach came while ruling with an iron fist at Bayern Munich. Feeling the need to prove he had the cojones to drop his underperforming stars from his starting XI, the Dutchman opted for a literal approach on his unsuspecting squad.
Luca Toni, another who endured a turbulent relationship with the coach, managed just four league games under the Dutchman following his appointment in 2009 and later criticised his former boss for treating him and others like "an interchangeable object."
But before leaving the club for Roma in early 2010, the former Fiorentina star was left with one particularly vivid memory of his former boss.
"The coach wanted to make clear to us that he can drop any player, it was all the same to him because, as he said, he had the balls," said Toni.
"He demonstrated this literally [by dropping his trousers]. I have never experienced anything like it, it was totally crazy. Luckily I didn't see a lot, because I wasn't in the front row."
4) Only one man can be in charge
Van Gaal's skirmishes with other high profile figures who dare to have a say on matters involving his team are often highlighted as his biggest weaknesses. This can be illustrated by comments made by Bayern CEO Karl Heinz Rumminigge who declared the Dutchman's style "won't win him any friends," after their stormy encounters at the Allianz Arena.
The tempestuous relationships he endured when asked to share responsibility with a significant other was also demonstrated when he took on the role as technical director at his first club Ajax in 2004.
As The Guardian recently recalled, van Gaal felt the need to pull up a chair and sit himself on the side lines to cast a beady eye over manager Ronald Koeman's training session one afternoon during pre-season. One could only envisage how the volatile van Gaal would have reacted had someone taken a similar approach during one of his own drills.