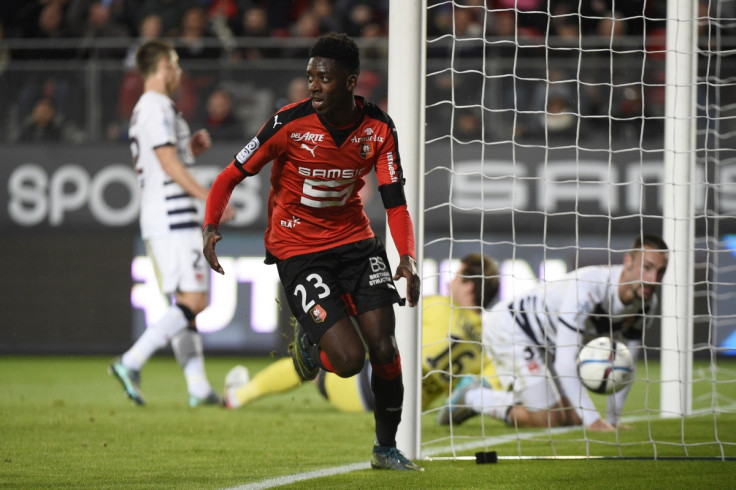 Ousmane Dembélé's future is in the hands of his mother. The 18-year-old Rennes' striker has become one of the most sought-after starlets in world football in recent months, but his agent, Badou Sambagué, has revealed his mother Fatimata will dictate his next move.
Dembélé, who has been linked to the likes of Barcelona, Arsenal and Manchester City over the last few weeks, recently became the youngest player in the history of Ligue 1 to score ten goals. But the forward's agent has insisted the player will not be allowed to decide his own future.
"Fatimata, she will decide Ousmane's future," Sambagué said, according to The Guardian. "When he wanted to leave last summer, his mother told him she wanted him to stay at Rennes and sign his first professional contract. In the end he had no choice."
Sambagué claimed the player needs to focus his full attention on his on-field performances. "It's very important for him to only think about playing football," he reflected. "My job is to protect him from all the speculation. I've known Ousmane since he was born – I lived on the first floor of our tower block and his family was on the second. I went to school with his brother and sister so we know each other very well."
Sambagué thinks the reported Arsenal target made the correct decision in joining a club like Rennes early in his career, as he has been allowed to develop his skills in the right environment. "Ousmane had the choice between three or four clubs. He said, 'Badou, I'm not a professional player yet because I'm only training with the first team. I want to improve and how can I do that if I don't play?'
"But he had a good opportunity to gain some experience at a smaller club that knew him well. If he had gone somewhere then we may have had to wait for him to play games.
"At Rennes, he has established himself in the team and now everyone can see what he can do. He has a dream to become a good player, step by step. It's not to go to a big club and just be forgotten about."
Sambagué admitted Dembélé has been attracting the eye of scouts in recent weeks, some of whom are said to represent Arsenal and Barcelona, but he insisted the player is focused on continuing to improve. "I've been speaking to a lot of scouts and for the past three or four years, they have known we have a very good player on our hands," he said.
"But the most important thing is the mentality of the player – you can have all the quality in the world but if you don't want to improve, you will not get very far. The objective for Ousmane is to keep improving all the time."