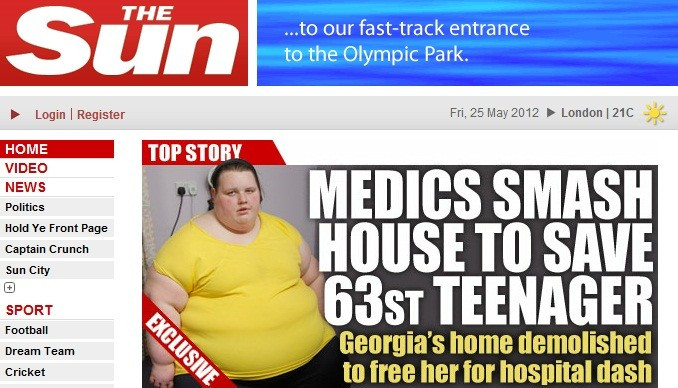 A Welsh teenager has been cut free from her family home by emergency services after being considered too overweight to leave the house.
Georgia Davis, 19, of Aberdare, South Wales, was recently in the media after tabloids dubbed her "Britain's fattest teen".
Her medical condition at the time emergency services from the police, fire service and ambulence crews were scrambled remains unknown, though it is thought she may have suffered massive organ failure after reaching a reported weight of 63st.
The team of 40 rescuers spent over eight hours removing her from her home, where walls had to be demolished and scaffolding and a makeshift bridge had to be erected to get her safely to an ambulance.
Davis is reported to have been unwell but conscious throughout the rescue and was sent to hospital after suffering, what is speculated to be, a seizure.
She was sent to training camps in America in a bid to get fit and lost 15st in nine months, though she later slipped into a depression and piled the weight back on.
One neighbour told Wales Online: "When she first came back from America you would see her walking up to the country park most days. She was going to the gym and doing really well, but then you just stopped seeing her.
"We haven't seen her since, not for months."
Another neighbour said: "It's easy for us to assume what's happening, but I guess you really don't know what's going on behind closed doors.
"But they've lived here for donkey's years and when she was younger, about 10 or 11, she would go out and play with the other children. She used to enjoy it, but her mother would always call her in.
"It's just so sad that she's got this way. But then you've also got to wonder how much all of this is costing. There's at least 60 people working on this, even they're talking about the cost. Say they're all on £10 an hour, that's one hell of expense. That's before you even consider the damage to the property.
"All you can hope is that they get her out of there safely and get her the help she needs."