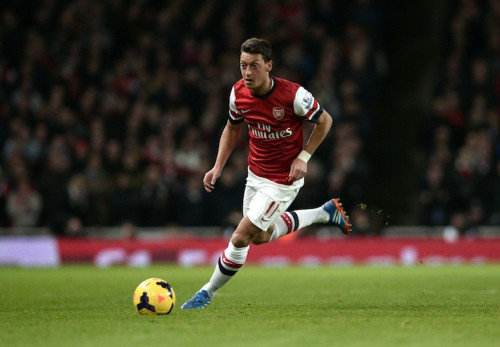 Mesut Ozil has revealed that having his German teammates at Arsenal has made life a lot easier for the midfielder after making his move from Real Madrid in the summer for a club record fee.
Ozil's move to the Gunners on deadline day came as somewhat of a shock but has proven to be a stroke of genius from Arsene Wenger, with the 25 year old starring for the side as they mount a serious title challenge.
And Ozil says that while he gets used to some of the differences between life in La Liga and the Premier League – one of those being the lack of a winter break in England – he finds it easier with his international teammates playing beside him.
"In the Premier League, you play every few days - you don't get a week to relax," he told the Arsenal website.
"I'm very pleased that I'm in this league because you go from game to game very quickly. You play every two or three days and for me it's better to play more games than train because I love a challenge and here that is perfect.
"I feel comfortable here. You can see on the pitch when we play together that we have a very good understanding.
"The team is great and for me it's been very easy to settle - the German players here have helped me to establish myself quicker than I perhaps would have done were they not here.
"But ultimately I feel pleased. The people are very friendly and welcoming."
Ozil's arrival at the Emirates got the fans back on side with Arsene Wenger and his performances have consistently been impressive. More questions of Arsenal's title credentials are likely to be asked in the second half of the season and the Gunners' boss will be relying on the star to help his side break their trophyless spell.