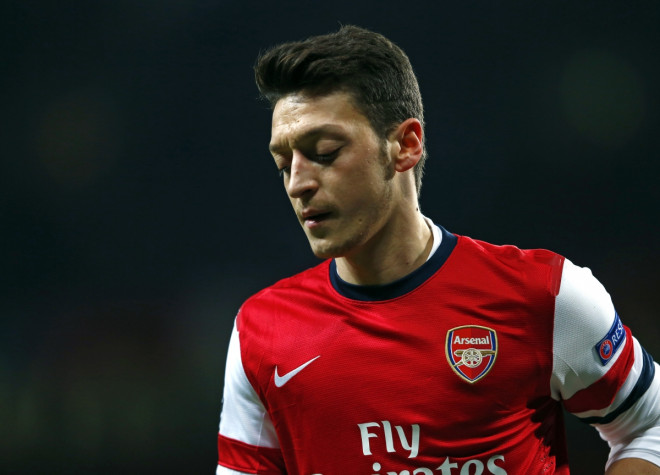 Arsenal have suffered a major blow in the title race as star midfielder Mesut Ozil is set to miss the next six weeks due to a hamstring injury, according to the Daily Mail.
The 25-year-old was substituted during the half time in Arsenal's Champions League return leg fixture against Bayern Munich at Allianz Arena earlier this week.
Ozil was struggling and Arsene Wenger was forced to withdraw the midfielder as the north London side crashed out of the European competition.
The report claims the former Real Madrid star was aware of the pain in the muscle, but was completely unaware of the damage while playing in the first half.
The Gunners manager confirmed after the match that the German international picked up a hamstring injury, which led to his substitution.
Arsenal manager admitted the injury sustained by the Gunners' record signing looks serious and he could be out of action for the next few weeks, including a crucial fixture against their arch rivals Tottenham Hotspur.
Ozil was sent for further tests in London hospital on Wednesday. The Daily Mail claims the initial reports suggests the German midfielder could be out for another four to six weeks.
Should he spend the next six weeks on the sidelines, Ozil will miss Arsenal's crucial league fixture against Tottenham, Chelsea and Manchester City. He would also miss the Gunners' trip to Wembley as they face Wigan Athletic in the FA Cup semi final clash on 12 April.
Arsenal face their arch rivals Tottenham at White Hart Lane on Sunday. Ozil joins list of players to miss the north London derby, which includes Aaron Ramsey, Kieran Gibbs and Jack Wilshere, along with long-term absentees Theo Walcott and Abou Diaby, who are ruled out for the rest of the season.
Ozil's injury is likely to be a major blow for Arsenal in their title race and also for the crucial FA Cup clash against Wigan. The Gunners are third in the table with 59 points from 28 games, level on points with second place Liverpool. The two clubs are seven points behind league leaders Chelsea, who have played 29 games so far this season.