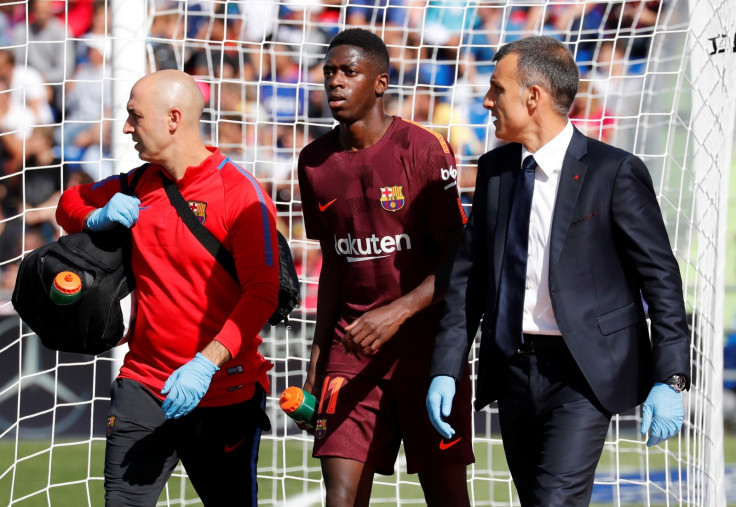 Barcelona are in big trouble and the season is barely two months old. Ousmane Dembele was substituted on his maiden La Liga start for the club during the win over Getafe after he felt an intense pain in his left leg, limping to the touchline as his season hung by a thread.
Though initially it was reported he would miss just two months, Barcelona confirmed yesterday that he will have to undergo surgery in Finland - he ruptured his tendon in his left thigh according to the club's doctors - and will miss around four months. During that period Barcelona will play around 24 matches, including El Clásico against Real Madrid at the Bernabéu in December.
Since Neymar left the club to sign for Paris Saint Germain, there has been big controversy at the Nou Camp, with thousands of supporters claiming Josep Bartomeu, the club's president, should resign as soon as possible, as he has been unable to replace legends such as Carles Puyol or Xavi Hernández
Meanwhile, Real have dominated both domestically and in Europe, winning the double last season. Critics also highlight the club's poor performance during the transfer window. Either way, when Los Blaugranas signed Dembele, the most expensive signing in their 119-year of history, for around €150m, caution turned to hope.
Barcelona, to be fair, have four La Liga wins under their belts so far and a Champions league success against last season's runners-up Juventus. But the turmoil has returned. They have no reliable replacements for the attacking trio Luis Suárez, Leo Messi and Dembele. Paco Alcácer, their fourth forward, is not even included in Spain's international squad, and he is considered by many the most overrated signing in Barcelona's recent era. He has scored just eight goals in 31 games.
Gerard Deulofeu is the natural alternative. After his spells at Sevilla, Milán and Everton, he faces his eighth season in professional football. He has played 170 games as a professional, scoring 37 goals, 27 of them playing with Barcelona B in the Second Division. Though it is true that he is a winger rather than a centre forward, he is the only person in Barcelona's squad who can get close to the contributions of Neymar or Dembele.
But so far, he has been unable to stand out in the long term. Either Alcácer or Delofeu need to step up. They are in the crucial moment of their careers because they are supposed to replace Neymar, Luis Suárez, Dembele and eventually, Lionel Messi.
Messi is approaching one of the more seismic moments in his career. With Argentina teetering on the brink of missing the World Cup, he'll need to be at his best during the games against Perú and Ecuador. If the two-time winners fail to win both game, they may have to face a play-off against Syria or Australia, meaning he would miss Barcelona's clash with Sevilla on 6 November. The same applies for Javier Mascherano and may even affect Luis Suárez if finally Uruguay end up finishing outside the four automatic qualification berths.
Barcelona won 2014/15 La Liga with 94 points, two more than Real Madrid. Whereas in 2015/16 Barça's title came with 91 points, one more than Real (90). Last season, Real Madrid lifted the trophy with 93, three more than Barcelona (90). Time will say if Delofeu or Paco Alcácer are enough to continue their La Liga success, but their lack of previous success will not ignite much optimism among supporters, once again exposing the failure to strengthen the squad during the last five years.
Dembele's injury might be crucial for Barca, and president Bartomeu knows well that a big part of his future in the club depends on the ability and inspiration of two players, Alcácer and Delofeu, who have had little impact on the biggest of stages in Europe.