Lionel Messi lost the last 2016 Ballon D'or award to his Real Madrid nemesis Cristiano Ronaldo but the Barcelona legend is still on course to be viewed one day as one of the best, if not the best, player in football history. Here's everything we know about the little Argentine star so far.
Who is Lionel Messi?
Lionel Messi was born in Rosario (Argentina) but had to move to Barcelona at the age of 13 after being diagnosed with a growth hormone deficiency. He had impressed in the central Argentine Newell's Old Boys academy since the age of 6 but the illness forced him to make a crucial decision, ahead of his future. Leo, who is the third of four children, needed a growth hormone treatment so his development would not be affected but his family could not afford it. River Plate were said to be interested in getting him but a move to the Buenos Aires base never happened – thankfully Barcelona offered him the chance to start a new life in Europe along with his whole family.
Lionel Messi fact file
Real Name: Lionel Messi
Date of birth: 24 June 1987
Home town: Rosario, Argentina
Height: 5'7
Weight: 148lbs
Family: Antonella Roccuzzo, two children
Nickname: La Pulga, Leo
Facebook: @LeoMessi
The Catalans agreed to pay for his medical treatment and the Argentinian signed his first contract with the La Liga giants on a napkin. The start to life in Catalonia was difficult, however. He was unable to play during the first month due to bureaucracy and his mother, two brothers and his little sister had to go back to Rosario, leaving him alone with father Jorge Messi. The Barcelona star did not give up, progressing through the different ranks until, in the 2003-2004 campaign, he was handed his first-team debut in a friendly with Porto at the ripe age of 16. On October 2004, he made his first official appearance in a Catalan derby with Espanyol and, a year later, scored his first goal for the club in a game against Albacete, earning quick comparisons with Diego Armando Maradona.
The Argentine international has five Ballon D'or awards under his hat, winning a number of major trophies for Barcelona, such as four Champions League, eight La Liga titles, four Copa del Rey, three European Super Cups and three Fifa Club World Cups. Furthermore, Messi also lead his country to the Under-20 World Cup in 2005 and the gold medal at the 2008 Beijing Olympics earlier in his career.
Career highlights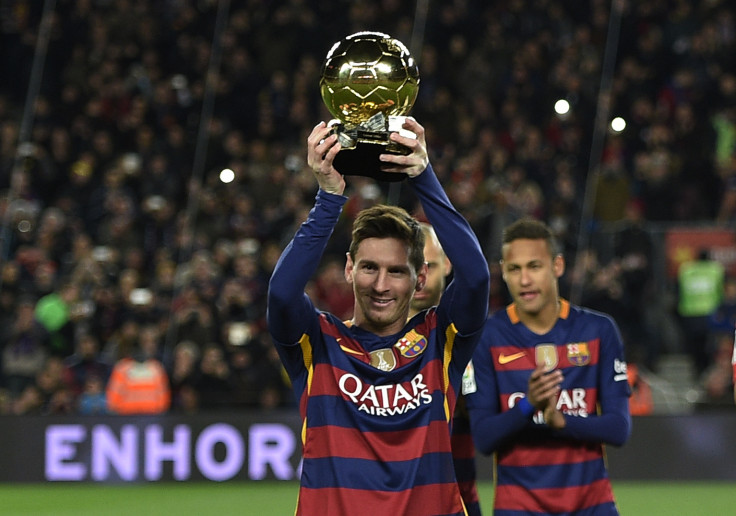 Leo netted his first goal for Barcelona during a 2-0 victory over Albacete in the 2004-2005 campaign, at only 17 years, 10 months and 7 days old – following an assist from Ronaldinho.
He netted one of the best goals in the history in 2007 against Getafe, emulating Maradona's solo goal against England in the quarter-final of the 1986 World Cup.
The Argentine considered his best goal ever to be a header against Manchester United in the Champions League final of 2009.
He scored 91 goals in 2012, beating the tally established by Gerd Müller (85 for Bayern Munich and Germany in 1972).
His most prolific campaign came in 2011-2012, when he netted a total of 82 goals, 73 in 60 appearances for Barcelona and further nine in his nine international appearances for Argentina.
He became the Argentine top scorer after netting a free-kick in the semifinals of the Copa America 2016 against USA, surpassing Gabriel Batistuta.
In January 2016, he became the only player in the world to win five Ballon D'or awards
What are Messi's net worth and salary?
Messi signed his seventh contract at Barcelona in May 2014 after committing his future to the club until 2018. Barcelona failed to disclose the terms of the agreement but it was said his net salary is around €20m (£17m, $21.3m) a year plus add-ons. Furthermore, his release clause was then set at €250m.
In 2016, according to Forbes, the Argentinian earned $53.4m in salary and bonuses, and an additional $28m in endorsements. Yet, his net worth in 2016 was estimated by The Richest in $280m.
Who are his sponsors?
Messi is one of the highest paid players in the world due to his contract with Barcelona, but he also has endorsement deals with the likes of Adidas, Pepsi, Gillette, Tata, Huawei, Konami, Audemars Piguet and AirEuropa.
In February, the Barcelona star announced a new lifetime deal to continue as one of the biggest Adidas icons.
Why he announced his retirement from Argentina before making a return
The Barcelona star announced his retirement from international football after missing a penalty in the Copa America 2016 final shootout against Chile. It was the third consecutive final lost by Messi with Argentina following setbacks in the 2014 World Cup and the Copa America in 2015 and 2016.
However, the five-time Ballon D'or reversed his decision two months later, returning with a goal in a World Cup qualifying victory over Uruguay.
Why he was given a 21-month prison sentence
Messi and his father were given a 21-month prison sentence for tax fraud in 2016. The five-time Ballon d'Or and his father appeared in court after accusations that the player had avoided €4.1m in tax on the Barcelona's star's earnings by using off-shore companies located in Belize and Uruguay between 2007 and 2009.
However, the pair did not serve any time in jail due to Spanish laws as, typically, non-violent crime with prison sentences under two years do not require any incarceration.