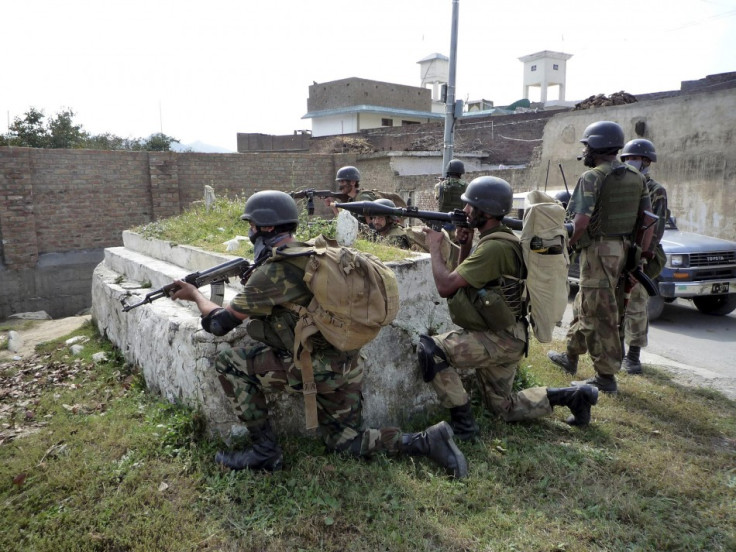 A military camp near Islamabad came under attack by gunmen on Monday in which seven security personnel were killed, according to reports.
The camp was situated near the city of Gujrat in Pakistan's Punjab province and was set up to search for the body of an army pilot whose helicopter crashed a month ago.
"At least seven security personnel including a police official embraced shahadat (martyrdom) and five others were injured due to firing by unknown assailants near Wazirabad," the military said in a statement.
The camp was attacked hours after a march by the Defence Council of Pakistan, a coalition of right-wing and hardline Islamist groups, passed in front of the army camp, according to an AFP report.
The protest was against the reopening of Nato supply routes.
The gunmen fired at the camp from over the river Chenab, close to the industrial city of Wazirabad, south-east of the capital, Islamabad. According to some television channels, the gunmen used cars and motorcycles and fled the scene after the incident.
"The exact number of attackers is not known but they came by motorbike and sprayed bullets on the troops from the bridge," a senior security official told AFP on condition of anonymity.
"It is highly likely that the attackers belonged to a banned religious outfit, which is a hand in glove with Taliban," the official added.
No group has claimed responsibility for the attack so far.
The Nato supply routes were reopened a week ago after being closed following an air raid that killed 24 Pakistani soldiers in November. The supply routes were reopened after months of negotiations that followed an apology from US Secretary of State Hillary Clinton.
At least 21 suspected militants were killed on Friday in a US drone attack, days after the supply routes were reopened.
Some political parties and Islamic groups were against the decision of the Pakistan government.