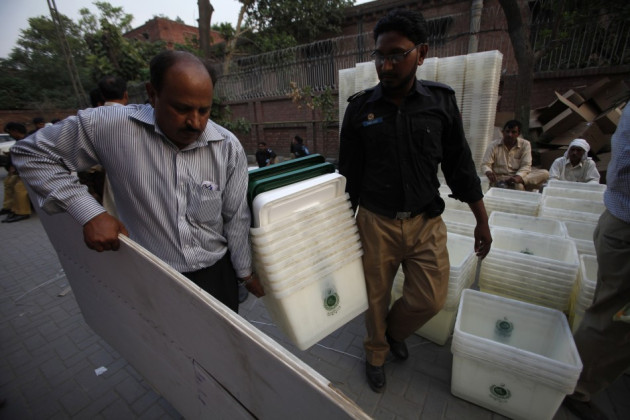 Pakistan has begun voting in a momentous election where a civilian government will hand over power to another democratically elected administration for the first time ever in 66 years.
Polling stations officially opened at 08:00 local time (03:00 GMT) and people were seen standing in long queues ahead of that. The booths will be open till 17:00 local time.
The election is significant in a country where the military ruled for the longest period. Earlier governments have been toppled by the powerful military leaders or sacked by army-backed presidents.
The run-up to the election has been marred by violence across the country killing dozens of people.
Pakistanis hope the poll verdict will bring widespread changes to the South Asian nation in terms of economic growth and crackdown on corruption.
More than 86 million people are eligible to vote for the 342-member national assembly. Over 44% of the electorate cast their votes in 2008 while this time a much higher voter turnout is expected.
The Pakistani Taliban has vowed to carry out suicide attacks across Pakistan forcing the administration to deploy tens of thousands of security personnel. The militant outfit has branded the elections as un-Islamic and warned voters not to head to the polling booths.
"I want to go out and vote but my parents are scared there will be a bomb or a shooting. This is the first time I'm old enough to vote and I'll try my best to go out there and feel that I am part of whatever new set-up comes into place," said a 21-year-old voter Nargis Fatima in the volatile city of Quetta, according to Reuters.
The Human Rights Commission of Pakistan has said that the violence in the last couple of days has "impaired the fairness of the elections almost beyond repair".
Out of the 75,000 troops, more than 5,000 have been stationed in the sensitive areas. Ahead of the polls, the borders with Iran and Afghanistan have been sealed to prevent foreign-aided militants launching attacks.
Nawaz Sharif and Imran Khan
There is no clear frontrunner in the race but former prime minister Nawaz Sharif's centre-right Pakistan Muslim League-N (PML-N) is being tipped to get a majority.
The ruling Pakistan People's Party is widely expected to get a drubbing and could emerge third. Most PPP leaders kept out of the election campaign fearing violent attacks. The party has been harping on the Bhutto legacy, but analysts say this line will not move voters as the bulk of the voters belong to the post-Bhutto generation.
The growing popularity of former cricketer Imran Khan is likely to upset all poll calculations. He has been drawing huge crowds at most of his rallies.
Khan, 60, the leader of the Pakistan Tehreek-e-Insaf (PTI) will hold the trump card if the two main parties fail to secure a majority.