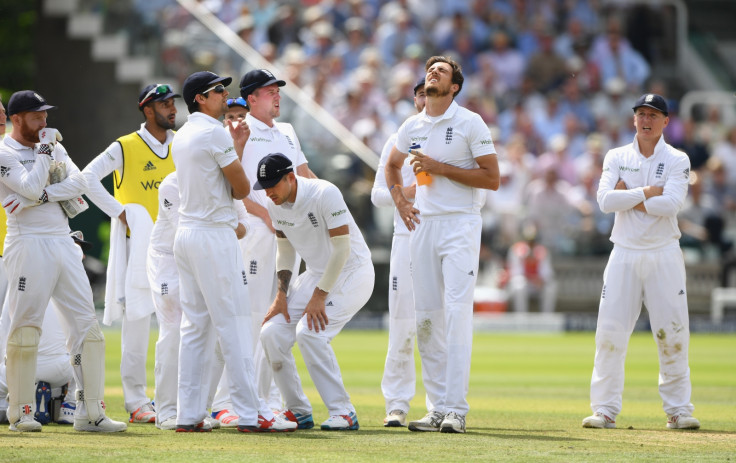 England staged a late counterattack to give themselves hope of claiming victory in the first Test against Pakistan after an exhilarating third day at Lord's. Pakistan lead by 281 with two second innings wickets in hand to leave the match very much in the balance going into the final two days of a thrilling contest.
Yasir Shah earlier finished with figures of six for 72 as England were bowled out for 272, with Chris Woakes finishing on 35 not out. Pakistan led by 67 but were indeterminate at the start of their second innings, allowing England to give themselves a glimmer of hope
Wickets for Stuart Broad, Woakes and Moeen Ali, who claimed the scalp of first innings centurion Misbah-ul-Haq [0], reduced Pakistan to 60 for 4 and a lead of just 127. But Younis Khan [25], who survived being given out lbw, Asad Shafiq [49] and Sarfraz Ahmed [45] held firm and extended the lead beyond 250.
But Woakes returned with two scalps in the final three overs, to complete his maiden 10-wicket haul to leave the match perfect poised but with England already requiring the joint-highest fourth innings total to win a Test at the home of cricket Alastair Cook's face an uphill battle.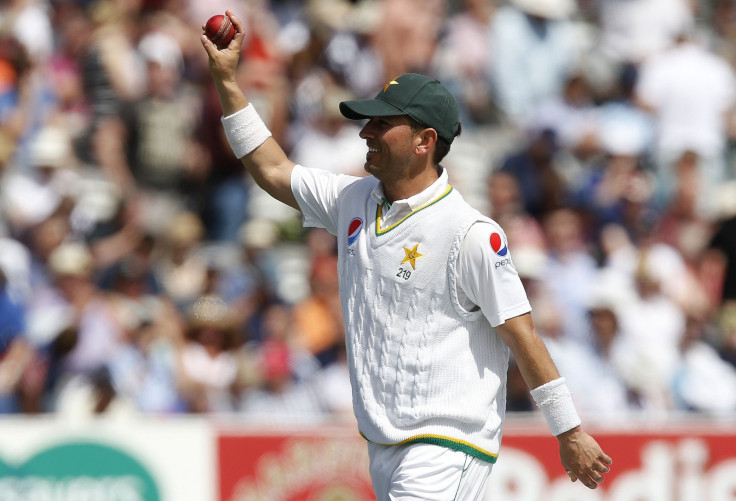 Pakistan picked up from where they left off on day two, by securing a heathy first innings lead as England provided woeful resistance against an impressive attack. Wahab Riaz produced a fine yorker to bowl Broad [17] before Shah claimed his sixth wicket and his fourth lbw dismissal when he trapped Steven Finn [5].
And the final wicket of the tail fell as Jake Ball [4] was run out on debut, as England lost their last three batsman for just 12 to give Pakistan a lead of 67 heading to the key third innings of the match. But it would be far from plain sailing for the tourists as they sought to build a formidable lead.
In the 70-minute mini session before lunch England did get a much-needed breakthrough through Broad as Mohammad Hafeez [0] gave Joe Root catching practice at second slip. A second followed upon the resumption with the lead only 107 when Woakes found the edge off Shan Masood [20], and was caught by Cook.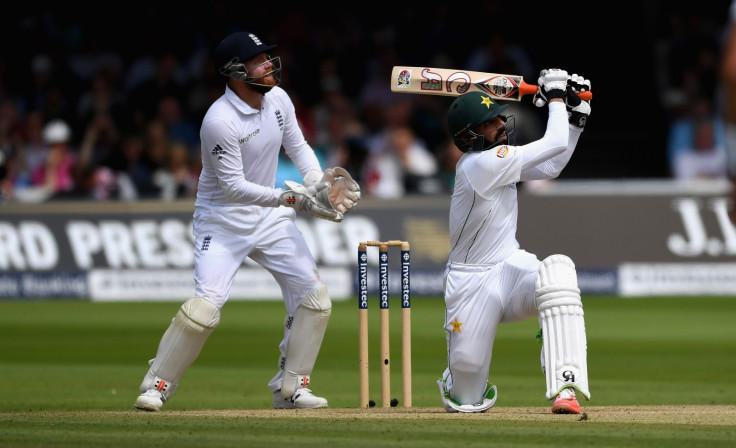 Uncertain of how to proceed and set a fourth innings total, Younis Khan and Azhar Ali retreated into their shells with the latter showing plenty of energy by bounding around his crease and living a charmed life as a result. Azhar was not as lucky however and he was given out lbw, again as DRS counted against the batsman, as Woakes took his eighth wicket of the match.
Captain Misbah had produced an innings of calm on day one, but his demeanour escaped him with Pakistan under the cosh as he heaved his second ball into the deep and into the hands of Alex Hales, as Moeen Ali took an unlikely wicket. He became the second player to score a century and a duck in the same Test at Lord's to leave his side teetering with the lead standing at only 127.
England were then cruelly denied the wicket of Khan twice in the space of three overs. First, the 38-year-old got a feather on a ball which careered into his pads before he successfully reviewed being given out to the much-improved Finn. Asad Shafiq was unperturbed by the drama going on around him and either side of tea steered Pakistan's lead above 150.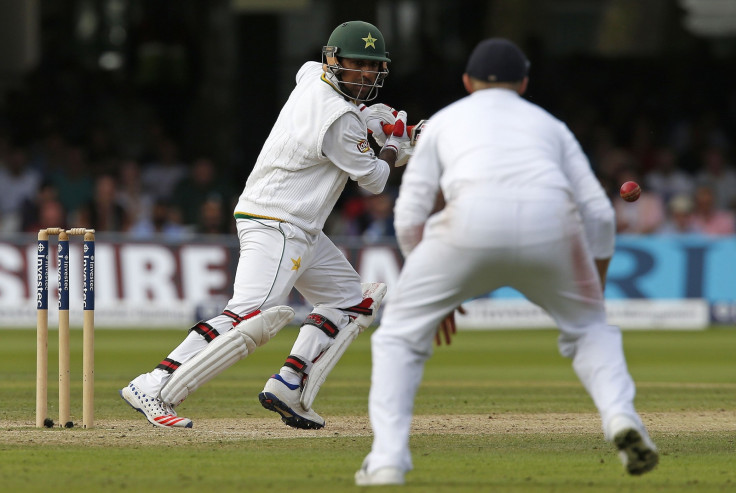 The advantage was close to becoming perilously high from an England perspective when the 69-run stand between Khan and Shafiq was ended. Ali got one of spin from outside off-stump and Khan could only chop onto his own stumps, to end a remarkable innings of 25 from 95 balls.
Sarfraz introduced a real urgency to the innings and took Pakistan's lead to beyond 200, as he was prepared to come forward to the England seamers. Partner Shafiq appeared to be honing in on a half century but England continued to cling on as Woakes got one to nip back and clip the top of middle stump.
The Lord's crowd sensed an opportunity but a cacophony of noise was unable to yield a wicket, with Broad dropping a leading edge from Shah off Finn, while deliveries were narrowly evading the outside edge. The encouragement continued nevertheless but Bairstow failed to take an edge from Sarfraz to once again highlight his shortcomings from behind the stumps, as Finn was denied a deserved wicket.
Woakes completed his maiden 10-wicket Test haul as Sarfraz edged behind and though Riaz [0] followed the damage had already been done by Shah, who finished the day 30 not out - his highest Test score - and his influence is set to define day four.