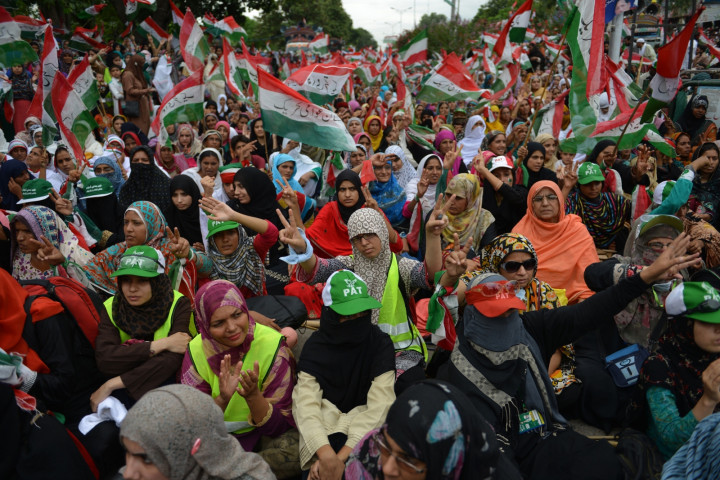 Two main opposition parties are showing their support in Islamabad, as tens of thousands of supporters protest against the Pakistani government, as the administration refuses to step down.
The demonstrators, braving heavy downpours in Pakistan capital, vow the allegiance to the cricketer-turned-politician Imran Khan, chief of Pakistan Tehreek-e-Insaf (PTI), and Tahirul Qadri, leader of Pakistan Awami Tehreek (PAT).
While the PTI has called the rallies as the 'Azadi March' ('Freedom March') the PAT has dubbed the demonstrations as "Inqilab March" ('Revolution March').
The protesters have said they are launching a sit-in until the Prime Minister Nawaz Sharif resigns.
Both parties demand Sharif's administration to step down over the vote-rigging allegations during the elections, which held in 2013.
"Our revolution is democratic and has no room for militancy and terrorism. We are non-violent and believe in a non-violent revolution," Qadri told his supporters adding that such revolution does not have to take longer.
Cricketer attacked
Shots were also reportedly fired at Khan when he was travelling along with several convoys, but he escaped unhurt.
Minor clashes have also erupted shortly after the incident; however, the protests remain peaceful overall as yet.
Both the political parties are expected to present separate set of demands during the public gathering shortly.
In the meantime, the government is also thought to have initiated steps to hold negotiations with the opponents.
Sharif has already arrived in Islamabad from Rawalpindi. in Pakistan's Punjab region, to address the situation.