As the dawn of 14 August 2014 draws near, millions of Pakistanis are gearing up for the Azadi (freedom) March, initiated by the Pakistan Tehreek-i-Insaf (PTI) political party, that is set to topple the present Pakistan Muslim League governance and its spearhead, Prime Minister Nawaz Sharif.
PTI's cricketer-turned politician Chairman, Imran Khan, triggered the 'Azadi March' fever in Pakistan on 27 June while addressing a rally in Bahawalpur in Pakistan.
"The entire Pakistan knows that the general elections were rigged," said Khan, before warning the government to verify the voting count or else a Tsunami March (later renamed to Azadi March) will take over the capital city of Islamabad on Pakistan's Independence Day, 14 August.
Khan alleges that the ruling political party, Pakistan Muslim League-Nawaz (PML-N), declared victory at 11:20pm on Elections day when only 15 percent of the votes had been counted.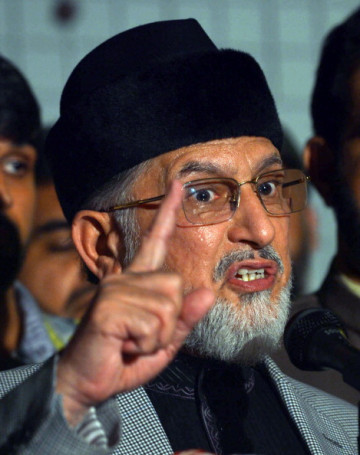 In parallel, Canada-based Pakistani cleric and Pakistan Awami Tehreek (PAT) chief, Tahir-ul-Qadri, is spearheading his own march against Pakistan's Prime Minister, Nawaz Sharif.
"The Inqlab (revolution) march will begin on August 14 towards Islamabad. The revolution and Azadi (freedom) march of Pakistan Tehreek-i-Insaf (PTI) chairman Imran Khan will go together," announced Qadri in Lahore, Pakistan, on 10 August, before adding: "If I am murdered my supporters must take revenge from the Sharifs."
Despite appeals for negotiation from Prime Minister Nawaz Sharif, both Khan and Qadri intend on marching the capital and freeing the nation from the authoritarian regime of the Sharifs.
Failing to reach a compromise, Prime Minister Sharif has called in the Pakistan army to handle the security across the country.
So far, many parts of Lahore and Islamabad city have been blocked off and certain sensitive areas are expected to shut down cellular services during the duration of the marches.
Sadar bank road completely jammed due to azadi celebrations #Rawalpindi #Azadi

— Traffic Update (@IsbRwpTraffic) August 13, 2014
People have already started gathering at D chowk. #Islamabad #Pakistan #PTI #AzadiMarchPTI #Azadi #AzadiCountdown — Abeer Hamid (@abeerhamid) August 13, 2014
@jonsnowC4 PM Nawaz blocked the roads with containers, pr... http://t.co/IQexVYIk3h #Pakistan #Islamabad #PTI #PAT #Azadi via @HaleemaAnsar

— Right Now I/O Feed (@rightnowio_feed) August 13, 2014
Till the hour comes, some have hope:
"It's not radical Islam that worries the US -- it's independence of Pakistan :) #Azadi — Syedih (@SyedIHusain) August 13, 2014
In #Pakistan history, whenever rulers tried to use force against own people to control agitation or movement , their days numbered.#Azadi

— Sohail Cheema MD (@sohailcheemamd) August 10, 2014
#Azadi to live and let live again #Azadi to start believing again #Azadi to start celebrating Pakistan again #AzadiMarchPTI #AzadiMarchPTI — EjazRashid (@Rashid_Ejaz) August 2, 2014
Some fear further riots:
Shocking Prediction: 14 Aug 2014 will come and go. Nothing will change in #pakistan. Everyone go back to your caves. #azadi not.

— Turab Hasan (@turab16) August 11, 2014
So #Pakistan is celebrating #Azadi with registering FIR against protesters.. #DemocracyIsBestRevenge — Rizwan Yahya (@RizwanYahya) August 9, 2014
The rest ponder what the word 'Azadi' means to them:
#Azadi is when Google Map shows solid line around entire (Original) J&K with India, Pakistan and China

— Feroz (@ferozwales) July 25, 2011
#Azadi 4 me is when i can openly support pakistan cricket team at india gate ;) — Dr Ijtaba Shafi (@IjtabaShafi) July 25, 2011
#Azadi is a time of reflection on what the fore fathers did for Pakistan. Yet #AzadiMarchPTI and PAT have made a joke of this day. #JusSayin

— Mo Firaas (@raisinganchor) August 13, 2014