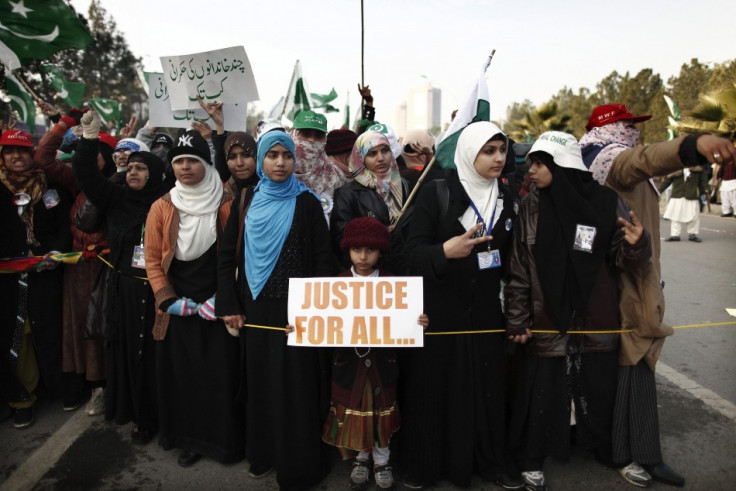 An anti-government protest in the Pakistani capital Islamabad led by populist cleric Tahirul Qadri turned violent after demonstrators hurled stones at security forces outside the country's parliament.
The police fired into the air and launched tear-gas shells at the large crowd, but there are as yet no reports of serious injuries to any of the protesters.
Thousands of demonstrators had marched towards Islamabad from Lahore, and moved from their official rallying point on the city's main road towards the parliament building despite warnings from the authorities.
One city official put the number of protesters at roughly 30,000. He did not want to be identified because he was not authorised to speak to the media.
More than 15,000 police officers were deployed by the government, which feared the demonstration would precipitate a terrorist attack.
The protest was co-ordinated by Qadri, a Pakistani-Canadian Sufi scholar, who had earlier given the government an ultimatum to desolve parliament, citing misrule and corruption within the administration.
"The ones sitting in the offices out there (the prime ministerial and presidential offices) are the former president and prime minister. Their time is up, our time is now," he said.
"I will give you (the government) a deadline until tomorrow [15 January] to dissolve the federal parliament and provincial assemblies. After that, the people's assembly here will take charge,"
Qadri wants to delay parliamentary elections indefinitely until corruption has been uprooted from the grassroots level. Government officials accuse him of trying to stall the elections which are scheduled for May.
Qadri has also urged the judiciary and the military to intervene to put in place a caretaker government that would oversee the elections.
Although some reports suggest Qadri has the backing of the army, the cleric told Reuters: "I have no link with military institutions. I am one of the biggest staunch believers... of democracy in the whole world."
The present government's term ends in March and elections have to held within six weeks. However, following the failure of the protest, the Pakistani media is eagerly awaiting Qadri's next move.
Meanwhile Pakistan's interior minister Rehman Malik has ordered an immediate probe into the incident.