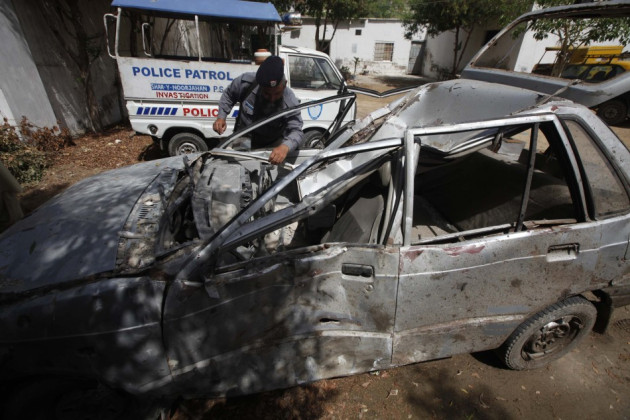 Twin blasts have rocked Pakistan's Khyber Pakhtunkhwa's Peshawar and Kohat areas in the north-west, killing at least nine people.
The bomb attack in Kohat was targeted at an independent politician, who is contesting for the upcoming elections on 11 May.
At least 30 people have been injured in the attack, suggest local reports.
Initial investigation indicates the bomb, placed on a motorcycle, was triggered by a remote-controlled device. The explosion also wrecked nearby buildings and shops.
Unconfirmed reports said it was a suicide attack, but bomb squad officials suspect the explosives were planted.
Officials said 10 kilograms of explosives were used in the bomb.
The second blast also targeted an independent election contestant's office in a Peshawar suburb, killing three people.
No outfit has claimed responsibility for the attacks yet. Many election candidates are frequently targeted by Taliban insurgents in the region for working with security personnel.
The latest blasts have come after explosions ripped through Karachi targeting secular political forces.
The Pakistan Taliban had claimed responsibility for the earlier attacks in which at least 11 people were killed.
The Taliban had warned that the militant group would launch its "spring offensive" soon.