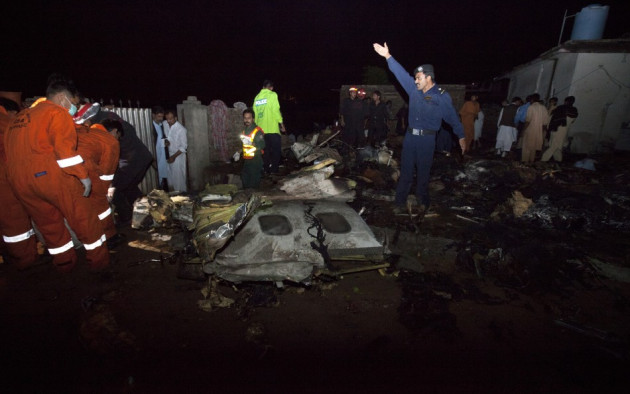 Pakistan's Civil Aviation Authority will carry out safety inspections on all aircraft operated by private airlines following the crash near Islamabad airport which killed 127 people.
The Bhoja Air jet from Karachi came down in fields near a village on the outskirts of the Pakistani capital in the country's second major fatal air crash in less than two years.
The funerals of those who died in the crash on 20 April have taken place. Nine bodies have not been identified and will undergo DNA tests, a hospital official said.
The head of Bhoja Air, Farooq Bhoja, has been released from custody after being questioned by officials but was not arrested. He has been barred from leaving the country pending an official inquiry into the disaster.
The flight's data recorder has been recovered and sent for analysis. The overall investigation could take up to a year to complete.
All 127 people on board - 121 passengers and six crew - were killed when the plane crashed and burst into flames. There were 11 children among the dead.
Pakistan's Civil Aviation Authority spokesman Pervez George told AFP: "The defence minister has ordered a shakedown inspection for all the private airlines.
"All private airplanes will undergo a re-inspection but without disturbing their flight schedule."
George also revealed that a passenger jet operated by private airline, Shaheen Air, faced potential disaster on 22 April, just two days after the Bhoja Air crash, when its left tyre burst as it touched down.
In July 2010, an Airblue Airbus A321 crashed into the hills overlooking Islamabad while coming in to land in heavy rain and poor visibility, killing all 152 people on board. It was Pakistan's worst-ever air disaster.
Bhoja Air operates a small fleet of aircraft on domestic routes and had to close down in 2000 due to financial difficulties before its re-launch in 2011.