Palestinian Authority President Mahmoud Abbas has asked the United Nations and UN Secretary-General Ban Ki-moon for international protection from Israel as the humanitarian crisis in Gaza escalates.
The Palestinian appeal came as US Secretary of State John Kerry has been speaking to regional leaders, thought to be in Gaza, to try to mediate between Palestinian and Israeli leaders and negotiate a ceasefire in Gaza.
Israel has launched a wide-scale military offensive in the Gaza Strip that has left over 160 people dead, including 30 children, and injured more than 1,000 people in the last week, since Israel began its operation.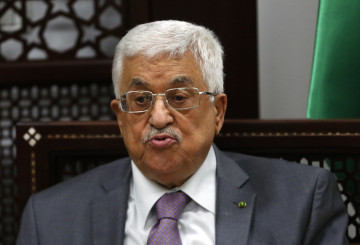 At an Arab League meeting, President Abbas presented a letter to the UN Special Coordinator for the Middle East Peace Process, Robert Serry, addressed to UN Secretary General Ban Ki-moon.
The letter will ask the UN Secretary General to officially put the State of Palestine under the UN international protection system and to form a legal committee for immediate follow-up, according to a statement by the Palestine Liberation Organisation. The request will also push for international diplomats to work towards a ceasefire in Gaza.
"This is the first of several decisions by the Palestinian Authority to be announced shortly," Abbas said in a speech as he delivered a message to the UN representative in the Palestinian Territories, Robert Serry.
"Our patience has run out. Israel's aggression against the Palestinian people must stop."
The letter requests protection for the Palestinian people against the mounting campaign of air strikes by Israel in the Palestinian territories which has intensified since Monday and has continued with an air offensive against the besieged Gaza Strip.
Last week, Israel launched a military offensive - dubbed "Operation Protective Edge" - against the Gaza Strip with the stated aim of ending rocket fire from the enclave. Gaza-based resistance factions have fired hundreds of rockets into Israel, some of which have reached Tel Aviv, in response to the ongoing offensive.
Israel has vowed to press on with its campaign until the rocket attacks stop, and claims it has already killed "dozens of terrorists" in targeted attacks on militants, militant facilities and homes of senior operatives.
However, the UN has estimated that 77% of the people killed in Gaza have been civilians, including claims that 17 members of one family were killed in one airstrike. The UN Security Council has called for a ceasefire in the Gaza strip.
Five Israelis have been injured this week by rocket and missile attacks, two of them seriously, but no Israelis have died.
Israel briefly deployed troops inside the Gaza Strip for the first time early Sunday as some 4,000 people fled attacks in northern Gaza and moved south, after Israel warned Palestinians to evacuate their homes.