The Israeli military has ordered Palestinians living in the northern Gaza Strip to evacuate the area "for their own safety".
Chief military spokesman Brigadier General Motti Almoz said Israel planned to hit the region with heavy force in the next 24 hours, as an offensive against militants is stepped up.
The military says it will send messages to residents overnight telling them to leave the region.
"Tonight we will send messages to northern Gaza residents urging them to leave their homes for their own safety. It's unsafe to be near Hamas," the army statement said.
Television channels are broadcasting non-stop coverage of the violence, while radio broadcasts are interrupted with every air raid siren warning of incoming rockets.
Following a five day offensive that began on Tuesday, (8 July) Israel widened its air assault against the Gaza Strip's Hamas rulers today (12 July), striking a mosque, Hamas-affiliated charities and an Islamic home for the disabled, killing two young girls.
Gaza health officials say 15 people were killed in the latest Israeli airstrike in an attack on the home of Gaza's police chief.
The death toll from the five day conflict now stands at 140. Most of the victims were children.
By comparison, the "Iron Dome," a U.S. funded, Israel-developed rocket defence system, has intercepted more than 130 incoming rockets, preventing any Israeli fatalities so far.
As Israel begins mobilising troops on the border with Gaza, ahead of a possible ground offensive, there are growing calls from the international community to reach a ceasefire.
The United Nations Security Council has expressed serious concerns about civilian welfare on both sides. The UN has estimated that 77% of the people killed in Gaza were civilians.
Britain's foreign minister William Hague has denounced the violence stating that it is a cause of "deep concern." Calling for a de-escalation of the conflict and a restoration of the 2012 ceasefire, Hague will be discussing cease-fire efforts with his American, French and German counterparts on Sunday.
Egypt's state news agency has reported that Egyptian President Abdel Fattah al-Sisi met with Middle East peace envoy Tony Blair in an attempt to secure a truce.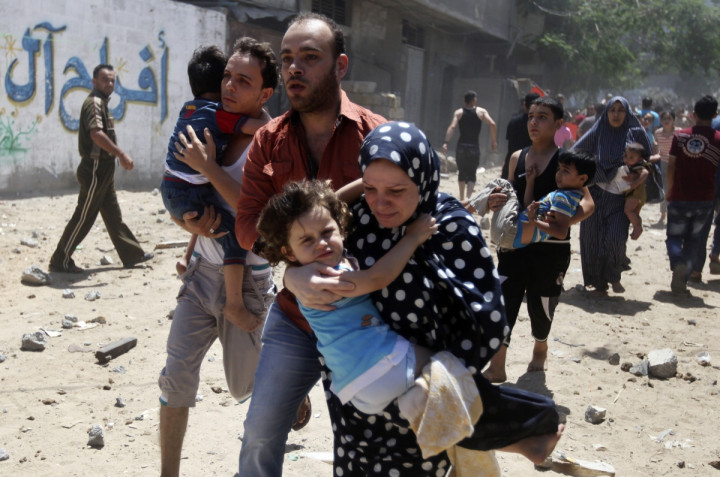 Israeli Defence Minister Moshe Yaalon warned his country should ready itself for several more days of fighting.
"We have accumulated achievements as far as the price Hamas is paying and we are continuing to destroy significant targets of it and other terror organizations," Yaalon said after a meeting with top security officials. "We will continue to punish it until quiet and security returns to southern Israel and the rest of the country."
An Israeli official said the goal of the operation is to restore quiet to Israel for a continuous period. "This goal will be achieved whether it is done militarily or diplomatically. Israel will consider any suggestion that will bring the accomplishment of this goal," the official said.
Prime Minister Netanyahu has said he will not end the campaign until he achieved his goal of stopping the Hamas fire.