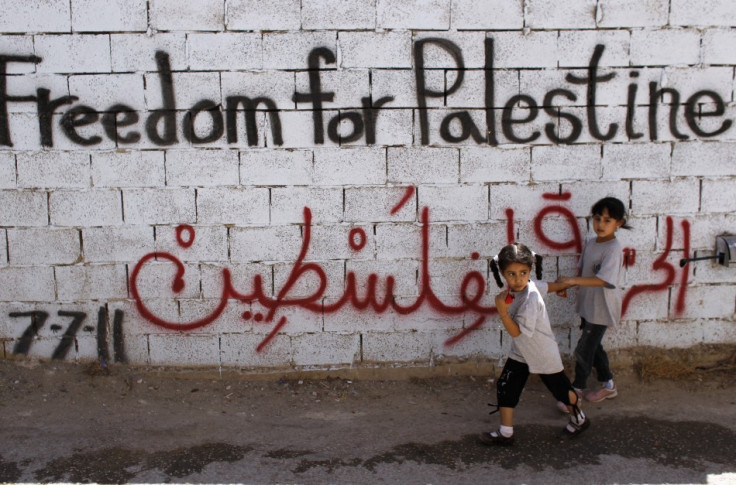 As the Arab spring unfolded and revolutions uprooted established dictators in Egypt, Tunisia and Libya, Palestinians submitted a bid for membership in the United Nations in an effort to push for change. As events overtook the Arab world, within weeks the Palestinians found their submission relegated to the background, leaving little hope for change.
IBTImes UK caught up with a group of young Palestinian women in the UK on a cultural exchange programme who talked about their lives and experiences.

How does the current conflict affect your lives on a daily basis?
Israa, 20, lives in Abu Dis, a Palestinian town southeast of Jerusalem.
"The military checkpoints are one of the biggest problems. I am searched and stopped by the Israeli army on a daily basis. There are a lot of checkpoints where I live, so it can takes hours to go to my university (Al-Quds University). The checkpoints are sometimes closed, which makes it impossible for us to leave the area. It can happen at any time, even during exams. The soldiers can also be violent toward us. There have been several occasions when I have seen friends beaten up.
"It is extremely difficult to live with your movements always being restricted. It is also difficult to make plans because of the checkpoints and not knowing whether they will be open. Although I live only 15 minutes from Jerusalem, where my mother's family reside, last year was the first time that I ever visited them."
Aicha, 22, a social worker, comes from the Old City, Jerusalem.
"I live in fear of being arrested or targeted because I am Palestinian. Last year, a group of Israeli settlers had organised a demonstration that passed through the district where my family live. We made sure that we did not go outside during the protest. After awhile, when it looked like the demonstration was over, my sister and I decided to go outside. Within minutes, we were stopped by men who spat at us. They also came up to my 20-year-old sister and tore her shirt up.
"The police were called. When they arrived, were were arrested, not the men who had attacked us. It is hard to live with this sentiment of impunity. It feels like the security forces protect Israeli citizens at any cost, even when they are the ones who have committed a crime or assault. It is difficult. Just being Palestinian means that I am guilty of something in their eyes."
Fatma, 21, lives in Ramallah.
"One of my brothers became involved in a fight 10 years ago. He punched an Israeli in the face and was arrested. The authorities said he wanted to kill the Israeli man and, as a result, he received a 13-year sentence. At the time, my sister lived in Jerusalem, where she had resided for 13 years. The Israeli authorities then withdrew her residence permit because two of my brothers are in jail.
"I was returning from school when the army came to arrest one of my brothers. They were making a lot of noise and there was a lot of movement. I panicked, started running and I accidentally touched a soldier's foot. He pushed the butt of his weapon in my face and broke my nose. I have had an operation, but I still suffer from nose bleeds.
"We are often not allowed to visit my brothers, which is unfair, especially since prisoners cannot always get the medical care that they need."
What do you think of the Hamas-Fatah unity deal?
Israa: "The alliance is a good thing. The separation between Hamas and Fatah only led to us being further divided. If we want a free Palestine, we need to unite and focus. We should not fight and kill each other. Fatah arrest Hamas activists and vice versa. The split even divides families, where siblings support different factions and that can create more problems."
Aicha: "I agree with Israa. I hope they can work out their differences and form a unity government that will be efficient. We are tired of being divided. We need to focus on the future so that we can move forward."
Has the Arab Spring had an influence on Palestinians?
Israa: "The Arab Spring has brought about regime change in some countries, but there are still major problems in Egypt and Libya. Although Mubarak is no longer in power in Egypt, the army is now ruling the country. A lot of Arab countries say they support our cause. Some of them even provide financial support, but what we also really need is a diplomatic push.
"The situation in Palestine is terrible. The youth feel suffocated. We are territorially divided and that has created a mental wall. There is a feeling that if things continue as they are, we will explode from within - it is just too oppressive."
Aicha: "I work with children and sometimes it is hard to talk about Palestine's history. A lot of things have been taken away from the textbook that we use, which has an impact on the children. How can we explain who we are and what marked our historical past when we are under pressure not to talk about it?"