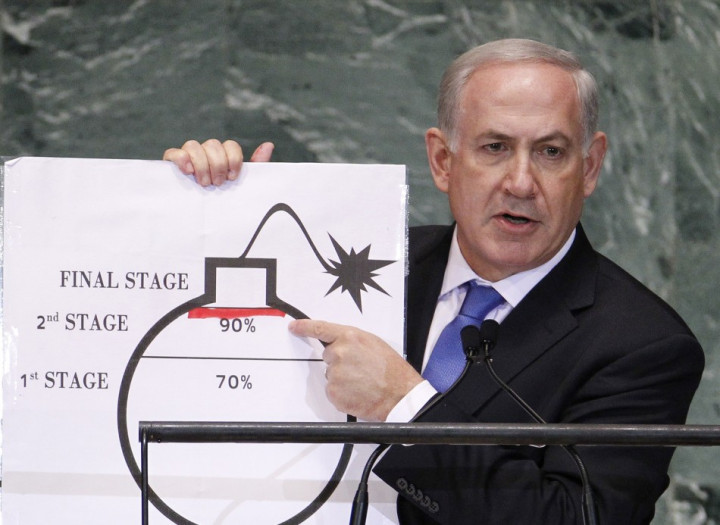 Israel's Prime Minister Benjamin Netanyahu has used a bizarre graphic to illustrate his demands that Iran be warned by world powers that it faces a red line it must not cross over its nuclear ambitions.
At the UN, Netanyahu unveiled a crude drawing of a cartoon bomb, complete with lit fuse and red line, to alert the General Assembly to his belief that Iran would have enough enriched uranium by summer 2013 to make a nuclear bomb.
Netanyahu said that nothing could imperil the world more than a nuclear-armed Iran and that Tehran should drop its plans to enrich uranium.
"The hour is getting late, very late," he said.
Earlier, Palestinian president, Mahmoud Abbas, accused Israel of ethnic cleansing by building settlements in east Jerusalem.
"It is a campaign of ethnic cleansing against the Palestinian people via the demolition of their homes," Abbas told the General Assembly.
East Jerusalem was occupied by Israel in 1967 after it took the area from Jordan. It annexation has never been internationally recognised and is regarded as illegal.
Abbas also called for the UN to grant Palestinians "non-member observer state" by the end of 2012.
That would allow Palestinians to participate in General Assembly debates.
Netanyahu responded: "I say to him [Abbas] and to you that we will not solve our conflicts with libellous speeches. We won't solve our conflict with unilateral declarations.
"We have to sit together and reach a mutual compromise in which a demilitarised Palestinian state recognises the one and only Jewish state."
Iran Nuclear Bomb Rhetoric is Easy Weapon in Hands of Netanyahu [OPINION]