Palestinian Prime Minister Rami Hamdallah Resigns amid Cabinet Power Struggle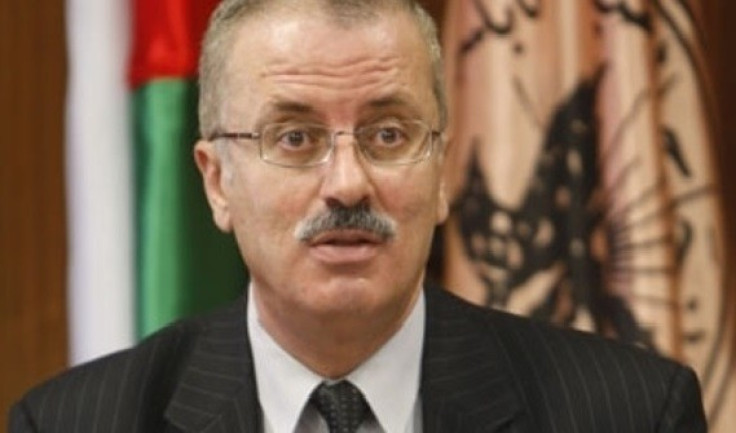 Palestinian prime minister Rami Hamdallah has resigned after just two weeks in office amid rumours of a power struggle at the heart of government.
President Mahmoud Abbas on Sunday 23 June accepted Hamdallah's resignation, which was attributed to a "conflict over authority" in the cabinet, his spokesman said.
Nabil Abu Rudeineh said: "The president accepted the resignation of the prime minister and designated him to head an interim government."
A statement on a Twitter account in Hamdallah's name stated: "The situation in this country forced me to resign. Conflicts, confusion, corruption. Palestine needs real political reforms."
However, the Palestinian Authority on Sunday insisted Hamdallah had no Twitter account.
Adding to the confusion, there were reports that Hamdallah had retracted his offer to resign, government sources said
A source close to Hamdallah said he had resigned over a power struggle involving his deputies, Muhammad Mustafa and Ziad Abu Amr, both of whom were appointed by Abbas.
"The prime minister feels that his deputies have been encroaching on his powers," the source said.
A Palestinian Authority source said that Hamdallah, who was appointed on 2 June, had become embroiled in a similar situation to his predecessor, Salam Fayyad.
"Hamdallah discovered that the Palestinian Authority president wants him to serve as a yes-man with no powers," the source said.
"Abbas wanted a prime minister who would play no role and only carry out orders from the president's office."
Abbas's decision to appoint two deputy prime ministers with expanded powers showed his intention to curtail Hamdallah's powers, sources said.
Commentators said real power was invested in the position of the deputy prime minister for economic affairs, Muhammad Mustafa, who is also director of the PLO's Palestine Investment Fund.
Mustafa was thought to be Abbas's first choice to replace Fayyad. It remains unclear why Abbas opted for Hamdallah.
Hamdallah's resignation leaves the Palestinian Authority in a state of disorder as it struggles to deal with a financial crisis.
Hamdallah's cabinet, which consisted mainly of members of Abbas' Fatah party, met for the first time last week. The other main party, Hamas, had called Hamdallah's appointment "illegal".
A deep rift has opened up between the two main Palestinian factions since 2007, when Hamas, which won elections the previous year, ousted forces loyal to Mahmoud Abbas in Gaza and set up a rival government.
US Secretary of State John Kerry is expected to return to the region in the coming days, to press Israel and the Palestinians to return to negotiations
© Copyright IBTimes 2023. All rights reserved.