Baywatch star Pamela Anderson has fanned the flames of her rumoured romance with WikiLeaks founder Julian Assange by describing the activist as "sexy".
The 49-year-old actress-turned-animal rights campaigner, who previously branded the editor-in-chief "a true hero" for leaking thousands of confidential government documents, visited the Ecuadorian embassy on Thursday night (9 March) looking particularly glamorous after appearing on The Nightly Show, and refused to deny that the pair in a relationship.
Assange, an Australian computer programmer, remains a fugitive in the building, where he claimed diplomatic asylum in 2012 after being placed under arrest in absentia by Swedish authorities over four alleged rape and sexual assault offences.
However, he has never been formally charged by Swedish authorities. All counts, except for the rape case, expired in 2015, and the rape charge will also be dissolved if the case is not heard by 2020.
In 2016, the United Nations described Assange, who says he fears being deported to the US if he should leave the embassy, as being arbitrarily detained by British and Swedish authorities, while Anderson branded him a "political prisoner" for his work exposing government secrets.
Now, in a blog post, the former Playboy star expressed her personal admiration and attraction to founder of the rogue whistleblowing organisation.
Anderson claims the father-of-one, 45, stimulates her more than all her "ex-husbands and lovers combined".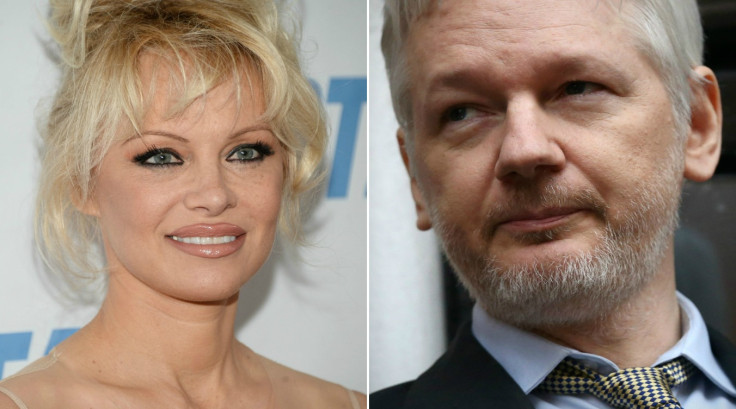 "I think he's quite sexy," she added. "He has tremendous strength and stamina – though vulnerable. Hard to imagine him that way – as capable as he is. But, he is up against the biggest super powers in the world."
The former glamour model also defended Assange over the "ridiculous" rape allegations, branding them "embarrassing for all involved".
"There is no rape – it is a case of condom or not," she added.
Her renewed support comes in the week that WikiLeaks released a dump of over 8,000 documents that detail covert mass domestic surveillance tools used by the CIA.
Codenamed Vault 7, the files, believed to be genuine, reveal how the intelligence agencies can grant themselves access to TVs, smartphones and a whole host of other electronic devices. However, the documents showed the intelligence agency could only hack individual devices, and there was no hint of any NSA-style mass data collection.
In response to the breach, US Vice President Mike Pence described the information leak as "one of the most significant compromises of national security in recent memory".
"This president and this administration will take it very seriously and use the full force of the law, and the resources of the United States, to hold all of those to account that were involved," said Spence.
Anderson, unsurprisingly, offered a different perspective in her post, saying Assange had "ruffled a few very powerful feathers – who will stop at nothing to discredit him, or worse".
"He is on the side of every civilian. And, he is exposing corruption in governments we elect," she said. "People need to understand that."