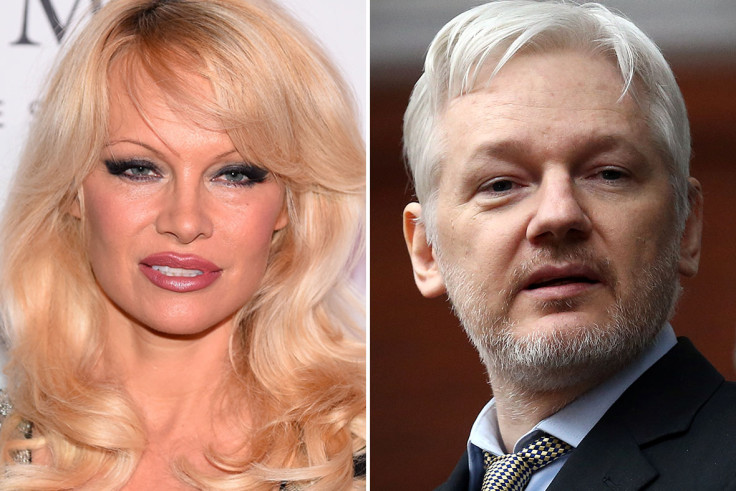 Wedding bells for Pamela Anderson and Wikileaks' founder Julian Assange? The Baywatch star finally addressed romance rumours with the exiled whistleblower. Instead of denying them, the actress vaguely answered "how far up the [wedding] aisle" she is with Assange, sparking a fresh row of wedding talks.
"Have you two had a relationship?" the hosts of the Australian radio programme, The Kyle and Jackie O Show prod Anderson, to which the actress had a cheeky response.
"I've spent more time talking to Julian than all of my ex-husbands combined!" the former Playboy model said, raising quite a few eyebrows about her alleged relationship with the Australian computer programmer.
Not the one to give up, the radio jockeys pressed her further about Assange seeking details of their romance. At one time, Anderson was even asked if she has kissed her rumoured lover yet.
Clearly, the 49-year-old movie star wasn't expecting such personal questions as she batted embarrassment away before explaining her side of the story.
"It was never the intention to become romantic, it was just to join forces to do something important," the actress-turned-activist said before agreeing with the show host that "Things happen, for sure."
The show host then asked her if she and Assange have progressed towards a wedding? Although, the former actress appeared shocked for a moment, her next response will have fans thinking more into the rumoured couple's relationship.
"I always thought I would make a good first lady," Anderson answers. "If I had to pick a world leader to stand beside, it would be Julian Assange".
As it turns out, even Assange gushed about her to the radio hosts. "She's an attractive person with an attractive personality. She's no idiot at all! Psychologically she's very savvy," he had said.
Rumours about the two began floating after the American actress visited Assange at London's Ecuador embassy, where he has taken refuge amid rape allegations in Sweden.