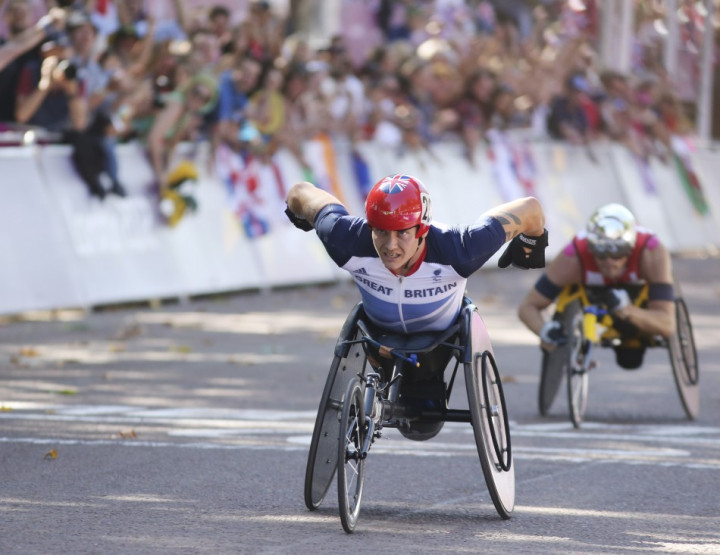 Incredible scenes at the Paralympic Games in London have failed to spark a surge in donations to disabled charities, it has emerged.
In some cases, charities helping disabled people have seen Lottery grants cut and diverted into funding Paralympic sports.
The findings threaten to embarrass London 2012 chief Lord Sebastian Coe on the day athletes were given a rousing sendoff through the streets of London.
Speaking shortly after the competition finished at the Olympic Stadium in Stratford, east London, Coe said: "We have had a seismic effect in shifting public attitudes." His speech was broadcast around the world.
Paralympians such as David Weir are now household names but an upsurge in interest in disability has not been translated into more charity donations.
Comedown
But charities contacted by IBTimes UK have not shared in the feelgood factor generated by the Paralympics.
British Polio Fellowship (BFP) chairman Pam Jones said the reality was less promising, and more frustrating, than Lord Coe had made out.
"We haven't had more donations than normal over the last few weeks," she said.
"I have my doubts whether anything will happen and that everything will go back to normal within a few weeks. There really needs to be a culture change.
"Like on other occasions - when people take up tennis after Wimbledon - it is often a craze that drops off after a couple of weeks.
"So when they talk of increasing the number of people in work, disabled people are included in that. It's about embedding this properly - not as an after-thought," she said.
About 120,000 people in Britain live with the legacy of polio, including Paralympic swimmer James Crispin. However, the BPF lost National Lottery funding five years ago, and urgently needs cash for core activities.
A spokesperson for Scope, the cerebral palsy charity, said: "It's really too early to say. But the more the public is engaged with what we do then the better that is for us when we ask them to help." Scope was also demanding a change in perspective, arguing that Whitehall needs to reconsider the issue of cerebal palsy. A spokesperson said: "A lot of policy seems like it did begin with what it's like to be a disabled person.
"Hopefully there will be less of things like changes to the Disability Living Allowance, an issue which is currently on the table."
However the spokesperson added: "We will certainly be using the Games to engage with Esther McVey [the minister for disabled people], because the new minister is about seizing the Paralympic Games.
"The Games are a real opportunity to grasp this positivity and the government should be taking this new understanding of disabled people's lives and put it at the heart of new policy."
A Meningitis Research Foundation spokesman said: "We've not seen suddenly had an influx of donations. But people are more aware of what's out there and what are the costs of living with meningitis."
The Meningitis Research Foundation is to deliver an 18,000-signature petition to 10 Downing Street. It will be handed over by Channel 4's Paralympic equestrian commentator Diana Man.
The petition urges the government to ensure that vaccines to prevent all types of meningitis and septicaemia are implemented as widely and as soon as possible.
'Attitudinal bounce'
A spokesperson for the Department for Work and Pensions told IB Times UK that charities should harness an "attitudinal bounce" created by the Paralympics.
The spokesperson said: "We're committed to doing all we can to support charities in doing this, which is why, for example, we are co-producing our disability strategy with a number of them, as well as with disabled people and other disability-related organisations.
"But more needs to be done to promote positive images of disabled people at work and taking part in society to show that they are the same as non-disabled people."
London 2012: Coldplay Bring down Curtain on Spectacular Paralympics [VIDEO]