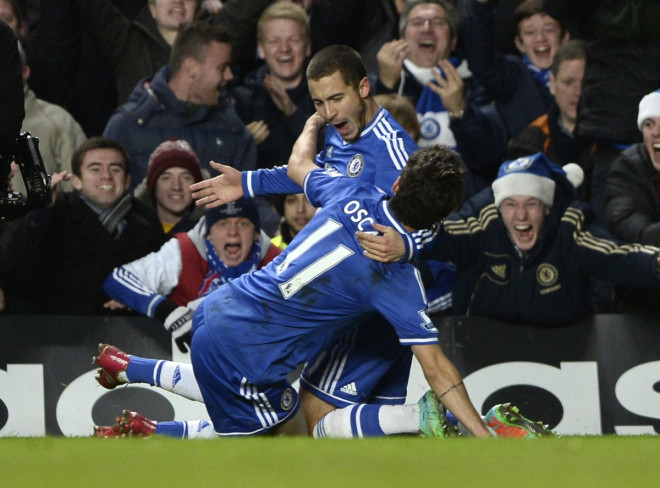 The Champions League quarter-finals tie between Chelsea and Paris Saint-Germain is hotting up as the French team are trying to tempt the Brazilian midfielder Oscar dos Santos to France, according to reports.
The youngster, who has become an integral member of the Blues' attack alongside Eden Hazard, has impressed at Stamford Bridge since his arrival from Internacional de Porto Alegre for £25m just two years ago.
According to Telegraph Sport, PSG are considering a £41.5m offer for the 22-year-old before the World Cup in Brazil.
PSG's Yohan Cabaye heaped praise on Hazard and said it would be perfect for the French club to sign the Belgian. His PSG teammate Lucas Moura admitted he would love Oscar to join them, saying: "Oscar is a very good player – a rare talent in today's football, given his qualities. He is very complete and is very smart. We need someone like him at PSG.
"I think he would help us a lot. The more quality players there are, the better it is for the squad. Also, he's a very good friend of mine. I would be very happy if he came to PSG, the club too."
Oscar is Jose Mourinho's first-choice number 10 after selling Juan Mata to Manchester United and Hazard has been Chelsea's best player this season.
The Belgian has enjoyed the most fruitful campaign of his career for the Blues, scoring 16 goals this season and spearheading the club's assault on the Premier League title.
Oscar meanwhile has become a Chelsea first-team regular under Mourinho and has contributed 14 goals this term in his second year at Stamford Bridge – Monaco and Barcelona are also reportedly interested in him.
Both players have three years remaining on their contracts, with the club willing to offer them extensions.