The road to war: Parliament approves anti-Isis air strikes in Syria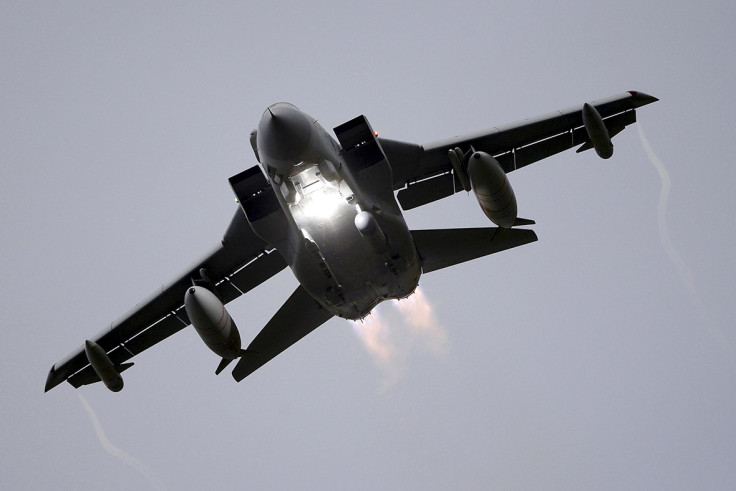 The UK has resoundingly approved air strikes against the Islamic State [IS] in Syria following a day of debate in the House of Commons. After more than 10 hours of back and forth, the motion was passed by a majority of 174. Some 397 MPs voted in favour of the government's motion compared to 223 noes.
Sixty six Labour MPs voted with the government while seven Conservative MPs voted against the air strikes, according to the Press Association. RAF strikes against IS could commence within a matter of hours. Six Typhoons and two Tornados are on standby in Akrotiri air base, Cyprus. Two British aircraft have taken off from the base following the parliamentary decision, according to Reuters. However, boots on the ground has been ruled out.
Prime Minister David Cameron posted on Twitter: "I believe the House has taken the right decision to keep the UK safe - military action in Syria as one part of a broader strategy."
Labour leader Jeremy Corbyn said: "British service men and women will now be in harm's way and the loss of innocent lives is sadly almost inevitable."
Despite Corbyn's assertion that the case for war "does not stack up", Shadow Foreign Secretary Hilary Benn delivered a speech which was described as one of the greatest to have been made in the House of Commons by his Tory counterpart, Philip Hammond. Benn urged Labour MPs to "confront this evil" presented by IS and added that the terror organisation holds our "democracy in contempt". Labour's Stella Creasy said his speech had persuaded her to vote for the government's motion.

Labour MPs were given the green light to vote with their conscience and dozens supported military action, including Benn. The result is a significant victory for Cameron after he lost a 2013 vote to bomb Syrian President Bashar al-Assad's forces. Cameron insisted that action against the "medieval monsters" was legal and that it would "keep our country safe."
Speaking to a full House of Commons, Cameron said: "These terrorists are plotting to kill us and to radicalise our children right now. They attack us because of who we are, not because of what we do." He added: "The question is this: do we work with our allies to degrade and destroy this threat, and do we go after these terrorists in their heartlands, from where they are plotting to kill British people, or do we sit back and wait for them to attack us?"
Following the vote, Foreign Secretary Philip Hammond said: "Britain is safer tonight because of the decision that the House of Commons has taken." Hammond refused to say when the air strikes in Syria will begin as it is now an "operational" matter. He added: "Military strikes alone won't help Syria, won't keep us safe from Daesh [IS]. But this multi-strand approach will." The US welcomed the decision, saying "it looks forward to having UK forces flying with the coalition over Syria".
Speaking to the Telegraph, an RAF fighter pilot said that British involvement in coalition action would make a difference. The airman, who cannot be named said: "It is clear that Isis operate on both sides of the border. At the moment we can only operate in Iraq. If we can go into Syria as well then I have no doubt that there will be targets for us to go against. It gives flexibility for ourselves and for the people directing us as well."
Anti-war protesters gathered in Parliament Square to demonstrate against the chosen course of action, with cries of "David Cameron, shame on you!" as the outcome of the vote to bomb Syria filtered through the crowd. This was followed by a minute's silence. One woman threw herself under a lorry in protest, bringing traffic to a standstill. She was eventually dragged out and arrested by police.
The Labour MPs who voted in favour of air strikes in Syria were:
Heidi Alexander (Lewisham East), Ian Austin (Dudley North), Adrian Bailey (West Bromwich West), Kevin Barron (Rother Valley), Margaret Beckett (Derby South), Hilary Benn (Leeds Central), Luciana Berger (Liverpool Wavertree), Tom Blenkinsop (Middlesbrough South & Cleveland East), Ben Bradshaw (Exeter), Chris Bryant (Rhondda), Alan Campbell (Tynemouth), Jenny Chapman (Darlington), Vernon Coaker (Gedling), Ann Coffey (Stockport), Yvette Cooper (Normanton, Pontefract & Castleford), Neil Coyle (Bermondsey & Old Southwark), Mary Creagh (Wakefield), Stella Creasy (Walthamstow), Simon Danczuk (Rochdale), Wayne David (Caerphilly), Gloria De Piero (Ashfield), Stephen Doughty (Cardiff South & Penarth), Jim Dowd (Lewisham West & Penge), Michael Dugher (Barnsley East), Angela Eagle (Wallasey), Maria Eagle (Garston & Halewood), Louise Ellman (Liverpool Riverside), Frank Field (Birkenhead), Jim Fitzpatrick (Poplar & Limehouse), Colleen Fletcher (Coventry North East), Caroline Flint (Don Valley), Harriet Harman (Camberwell & Peckham), Margaret Hodge (Barking), George Howarth (Knowsley), Tristram Hunt (Stoke-on-Trent Central), Dan Jarvis (Barnsley Central), Alan Johnson (Hull West & Hessle), Graham Jones (Hyndburn), Helen Jones (Warrington North), Kevan Jones (Durham North), Susan Elan Jones (Clwyd South), Liz Kendall (Leicester West), Dr Peter Kyle (Hove), Chris Leslie (Nottingham East), Holly Lynch (Halifax), Siobhain McDonagh (Mitcham & Morden), Pat McFadden (Wolverhampton South East), Conor McGinn (St Helens North), Alison McGovern (Wirral South), Bridget Phillipson (Houghton & Sunderland South), Jamie Reed (Copeland), Emma Reynolds (Wolverhampton North East), Geoffrey Robinson (Coventry North West), Joan Ryan (Enfield North), Lucy Powell (Manchester Central), Ruth Smeeth (Stoke-on-Trent North), Angela Smith (Penistone & Stocksbridge), John Spellar (Warley), Gisela Stuart (Birmingham Edgbaston), Gareth Thomas (Harrow West), Anna Turley (Redcar), Chuka Umunna (Streatham), Keith Vaz (Leicester East), Tom Watson (West Bromwich East), Phil Wilson (Sedgefield) and John Woodcock (Barrow & Furness).
© Copyright IBTimes 2023. All rights reserved.