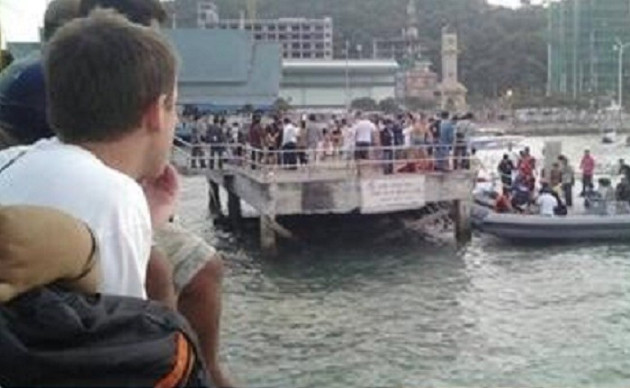 Six passengers, including a Chinese citizen and two Russians, have died after a tourist ferry capsized on Sunday off the Thai resort of Pattaya.
Police said the rescue effort was continuing amid fears passengers may be trapped inside the boat after it sank near Koh Larn, a small island off the Pattaya coast, at around 5pm local time (1100 GMT).
A police official told AFP: "There are six dead - three Thais and three foreigners."
The double-decker ferry, reportedly operating above its 130 to 150 people capacity, left Lan island for a 30-minute trip to the resort town of Pattaya.
Shortly after the boat departed one of its water pumps malfunctioned and water started to gush in. Passengers on the lower deck rushed upstairs, causing the ferry to slip on to its side and sink.
Police Col Suwan Cheawnavinthavat said: "Witnesses said there were neither enough tubes nor life vests on the ferry. Some of those who cannot swim had to cling on to coolers or ice containers until rescuers came."
He said police were now seeking the captain of the ferry to establish the cause of the accident.
Reports say that as many as 200 people have so far been rescued, including a nine-year-old Russian boy who is in intensive care at a local hospital. None of the others needed hospital treatment.
Dozens of ambulances were called to Pattaya's beachfront to handle casualties being plucked from the water.
Local travel blogger Richard Barrow said: "Many people had to tread water for a long time before rescue ships and other tourists boats came to their aid."
Some 22 million foreign tourists visited Thailand last year, but the country is struggling to shake off a reputation for lax safety standards after a series of fatal incidents.
Last month, an Indian tourist celebrating her wedding anniversary was killed in a parasailing accident off Pattaya's coast. In August, two Chinese tourists were killed in a speed boat accident near the main pier.
Four people died in a nightclub fire in August 2012 on the party island of Phuket, while there have also been several high-profile cases of foreigners being murdered.
Pattaya is one of the country's most popular resorts, particularly among Russians, and is renowned for its vibrant nightlife and cheap accommodation.