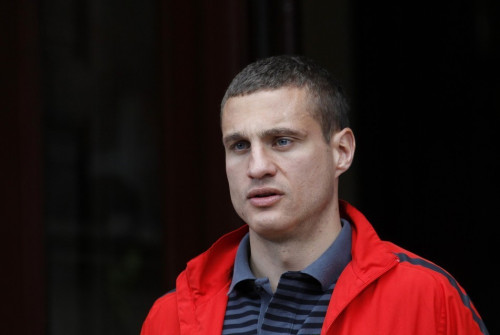 Former Manchester United defender Paul Parker believes Nemanja Vidic would have stuck to Old Trafford beyond this season if Sir Alex Ferguson was still in charge of the club.
The 32-year-old announced his decision to leave the Premier League champions after his contract expires at the end of the season. David Moyes replaced Ferguson after the latter stepped down from his post after guiding United to win the league title in the previous campaign.
The former Everton manager confirmed that it was a mutual agreement between the Scot and Vidic in the defender's decision to leave the club. The 50-year-old manager backed the Serbian choice of leaving Old Trafford and claimed it was the "right decision" by United's skipper.
Parker played as a left-back under Ferguson for five years from 1991. He believes that Vidic could have extended his stay beyond this season if United's legendary manager was at Old Trafford.
"Yes. It would be [different] but that's football, that's players, you play under certain managers," Parker told talkSPORT.
"I found it very difficult when I left Manchester United to go play anywhere else. Suddenly you haven't got that person who drove you there, that person you respected and you're willing to do everything to go and play for them."
"You just can't do it, it's a footballer's mentality, its human nature and it's only after when you realise that you should have done that [played for another boss]."
Parker left United in 1996. Vidic has seen first team appearances being limited with injuries keeping him on the sidelines in the past few seasons. The former full-back believes that the centre-back's departure will be a major loss for Moyes's side.
"Vidic gives Manchester United a presence. Anybody playing up against Manchester United and they see Vidic in the backline, they think 'oh this is going to be tougher than we thought," the former United defender explained.
"Other players will work around him and go in there to protect him because they know they need him to play, to organise. That's what players look for and if that person's not there it makes it difficult for those players to mentally feel they can go win the game."
"Vidic will be missed at Manchester United because for Manchester United he's the last of a dying breed," he concluded.