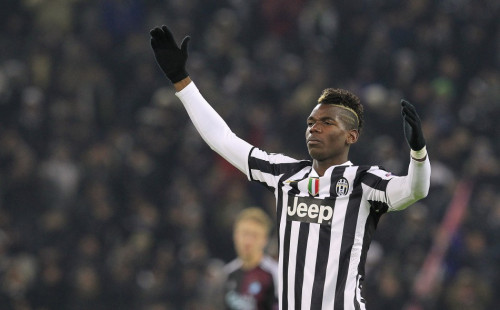 Juventus midfielder Paul Pogba has opened the door for a future move to Arsenal after admitting that he had always dreamt of playing for the Gunners during his childhood.
The French international was at Manchester United before joining the Italian champions in 2012. Since his move to Italy, Pogba has been a key member in Antonio Conte's side and helped the Turin club win the Serie A title last season.
The midfielder's performance has attracted interest from top clubs across England and Europe, with Premier League clubs Arsenal and Chelsea reportedly in the race to get Pogba's signature.
Pogba has revealed he had a childhood dream of playing for Arsenal and Spanish champions Barcelona, but admitted that he is happy with the Turin club.
"I feel good at Juve. I don't hide that when I was a child I was dreaming to play with Arsenal or Barcelona. And now I dream of playing with the French national team against my brothers," Sky Sports quoted Pogba as saying.
"For me, Juve is Zidane, Trezeguet, Nedved - talent, class, discipline and a sense of the team. As for me, I know that promising is not enough. I started from the bottom, I know there is a way, and I have the will to arrive. I am in no hurry, but I want to put my talent into action."
Pogba went on to praise the former United manager Sir Alex Ferguson for giving him a chance to feature for the Red Devils' first team, while with the Premier League side. The midfielder also went on to reveal that the Old Trafford legend urged him not to make a switch to Italy.
"Ferguson saw the depth, he was able to understand the developments that weren't there yet. Many players owe their success to him," the midfielder explained.
"He believed with improvement in me too, even if I wasn't playing so much. He told me not to come to Italy due to racism. I told him that the racism is everywhere, in England too," he added.
Pogba has made 17 Serie A appearances this season, scoring five goals and managing three assists in the process.