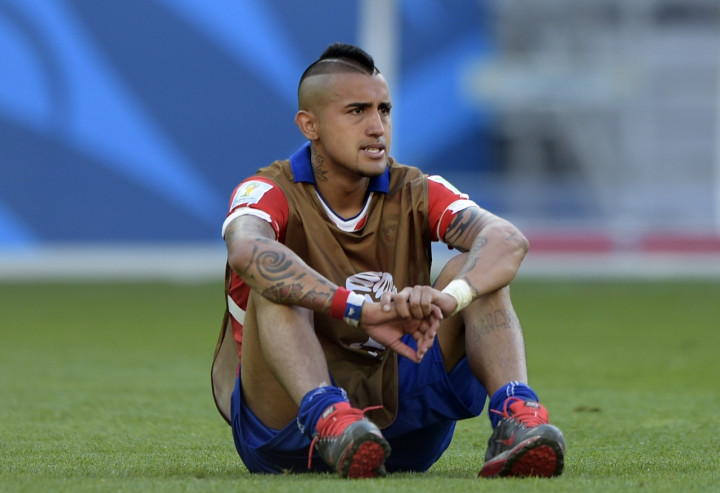 Juventus midfielder Paul Pogba has urged teammate Arturo Vidal to reject a move to Manchester United and remain at the club this season.
Chile international Vidal remains strongly linked with a move to Old Trafford as United boss Louis van Gaal aims to bring the club back into contention for the Premier League title.
A number of reports suggest the clubs are in talks over a possible £47m move but the midfielder's national team boss Jorge Sampaoli recently revealed van Gaal is awaiting assurances over Vidal's knee – which he underwent surgery on in May – before sanctioning the deal.
The 27-year-old has travelled with the Bianconeri squad as part of their pre-season tour of Indonesia, Singapore and Australia but former United midfielder Pogba admits there is uncertainty as to how long his midfield partner will remain at the club for.
"We are hearing that Vidal is going but we don't know," Pogba was quoted as saying by Australian newspaper The Age ahead of club's clash with an A League All-star side.
"For the moment he is injured, he is trying to get fit. We want him to stay at Juventus. At the moment he is here so we won't speak about him leaving."
According to reports in Chilean newspaper El Mercurio, United are still locked in negotiations with the Serie A champions having already made two offers for the player.
Following his summer break, Vidal returned to training ahead of Juventus' pre-season tour which got underway this week.
The Bianconeri manager Massimiliano Allegri has previously insisted the club are confident of retaining the midfielder's services beyond the summer and is pleased with his fitness as the new season looms.
"I have spoken with Vidal, mainly about his physical condition," Allegri told reporters.
"Things went well. It would be great if he were to stay at Juventus.
"He is running since yesterday, but we will evaluate day-by-day his condition and when it is best for him to start playing again.
"I am confident that he will be in perfect shape within a week or so."