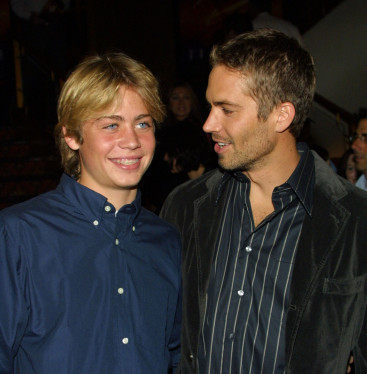 After lending a hand on Fast & Furious 7, Paul Walker's youngest brother Cody is starting his own acting career.
According to Deadline, the 27-year-old has landed a role in the World War II movie USS Indianapolis: Men of Courage, alongside Nicolas Cage.
It marks the newcomer's first feature movie since he signed up with Paradigm Talent Agency back in April.
Mario Van Peebles is directing the feature which tells the true story of Captain Charles McVay, who was commander of a boat that was hit by a torpedo during a secret mission in 1945. Only 317 survived after sharks began eating those who managed to get off-board.
Cody is playing one of the 1,196 crewmen who fought for survival whilst waiting four days to be rescued.
Cage plays McVay, who was court-martialled, then exonerated more than half a century later. McVay, Tom Sizemore, Thomas Jane, Matt Lanter, and Brian Presley have also been cast.
In the wake of Paul Walker's tragic death in November 2013, Universal enlisted the help of Cody to complete the remaining crucial scenes in latest instalment of the Fast and Furious franchise.
Back in May, Cody said that he was inspired to pursue acting because of his older brother.
"Paul was a huge movie star, and I think really what I didn't realise about Paul that I've since learned, is how loved Paul was to this scale," he told People magazine.
"Everyone that ever encountered him, he had a way of just talking to people and just making everyone – regardless of whether he just met you or not – feel like you were the most important person in the world."
He added: "[He wasn't] just the car guy. He loved cars, but he had so many different passions, so many different loves. [He was] multi-faceted, [an] adventurer, spontaneous, obsessive-compulsive. He was a really great example for me."
USS Indianapolis: Men of Courage is scheduled for release in May 2016.