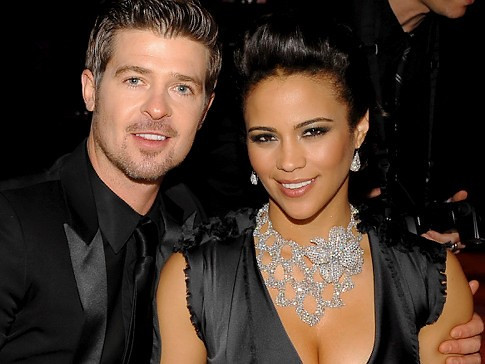 Paula Patton has said she felt 'utterly disrespected' after husband Robin Thicke's controversial MTV Video Music Awards performance with Miley Cyrus.
The 38-year-old actress was left seething after the lewd routine, which saw Cyrus twerking up against her husband in the provocative performance that caused a sensation.
TMZ reports that the Mission Impossible star was "enraged" because Cyrus had improvised the performance, but primarily because Thicke appeared to be happy to go along with it.
The September 2013 performance shocked the world sparking complaints from parents groups and TV regulators.
The couple reportedly began arguing constantly after the event in August, however the Blurred Lines singer continued to be spotted on the party scene and was often being pictured with various women.
At the MTV VMA's after party, the star was caught on camera with his hand on 20-year-old Lana Scolaro's bottom.
Immediately after the furore of the MTV performance and with the incriminating picture going viral, Patton claimed she was bemused by the public condemnation of the routine, insisting that she didn't get why it was a big deal.
"Honestly, they rehearsed for three days beforehand and I don't know how not to dance with someone having their booty in your ... all my friends do it like that! I don't really know what the big deal is," she said.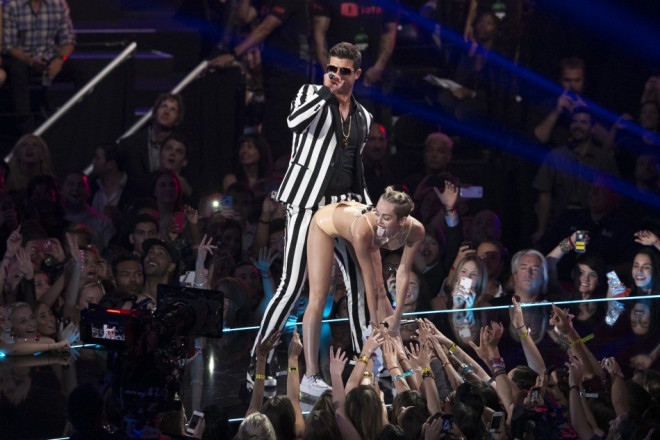 Thicke himself went on the offensive appearing in an interview with Oprah Winfrey, where he addressed the claims of his wandering affections and that performance. He told Winfrey that he thought his VMA routine with Miley Cyrus was 'fun' rather than 'sexy'.
"I just said, I don't care, let's entertain the people. Let's give them something they're not ready for, let's make them talk."
"So to me, I'm walking out towards Miley, I'm not thinking "sex," I'm thinking "fun," the Blurred Lines singer explained.
He also justified his apparent flirtations with other women suggesting that he shared an understanding with his wife of eight years and that they were each comfortable with their relationship.
And, discussing the controversial video for Blurred Lines, which features topless models, the singer claimed he discussed the concept of the video with his wife, who was supportive of the idea.

The twerking episode seemed to have been the last straw in the marriage that was apparently already under strain, and Patton was finally shamed into leaving her husband.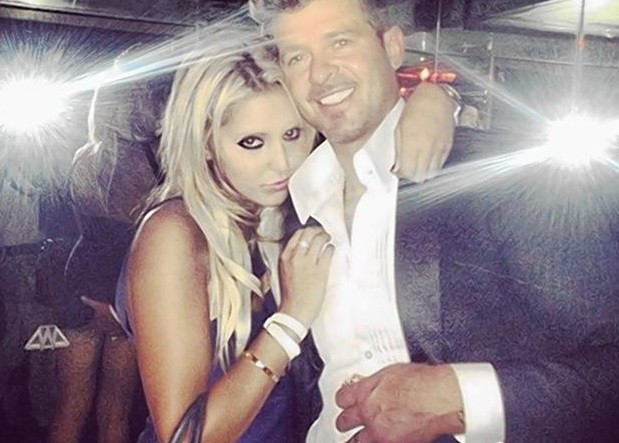 As the couple announced their separation, a source told Us Weekly: "Robin wanted to save their marriage, but it was Paula's choice and she ended it. Robin does not want this divorce.
"Robin was not blindsided - he knew this was coming out. But he was committed to saving their marriage. He didn't want this.
"She is done with the marriage, but he was definitely fighting to stay together until the last moment. It is still cordial between them, but they are now figuring things out."
The actress was spotted for the first time since news of her separation from Thicke broke. Arriving at LAX, without her wedding ring, the 38-year-old smiled for the cameras
By comparison, Thicke doesn't seem to have been faring quite so well, having cancelled three dates on his US tour in the wake of the news.
Following a no-show at Harrah's Cherokee Casino Resort in North Carolina the venue issued a statement saying: "Due to unforeseen circumstances, Robin Thicke will postpone his performance at Harrah's Cherokee originally scheduled for Tuesday, February 25. This concert will be rescheduled and the new date announced as soon as possible. We apologise for any inconvenience."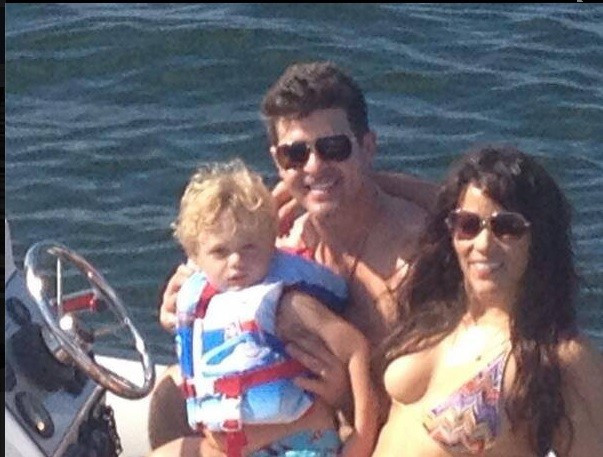 The singer scrapped gigs in Atlanta and Orlando, blaming vocal issues saying: "I never want to let down my fans but I have unfortunately lost my voice and cannot perform tomorrow night."
He was however seen jetting to Vancouver, where his wife is currently filming, apparently in a bid to save his marriage.
The couple who were high-school sweethearts and are parents to a three-year-old son Julian, announced they had "mutually decided to separate at this time", but will remain "best friends."