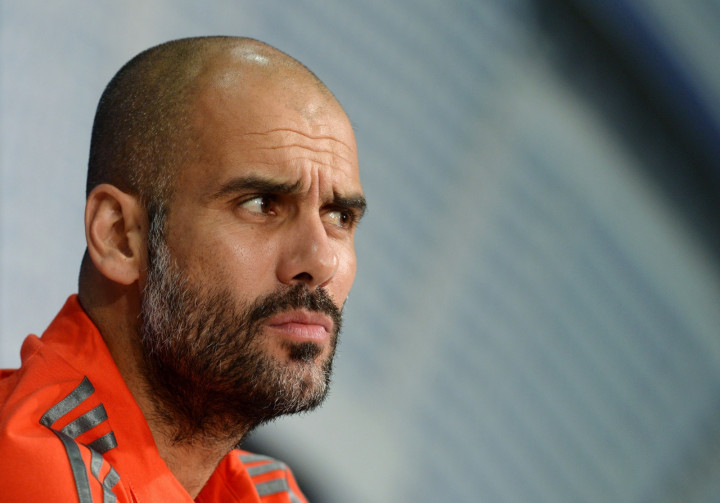 Bayern Munich manager Pep Guardiola claims Manchester United were keen to sign a number of his players this summer but none of them had any interest in a move to Old Trafford.
Louis van Gaal's appointment as David Moyes' successor at United sparked a summer of major upheaval at the club, with 16 players leaving as Luke Shaw, Ander Herrera, Marcos Rojo, Angel Di Maria, Daley Blind, and Radamel Falcao arrived.
During that period, the club were linked with a host of other high profile names. Toni Kroos was relentlessly linked with a move to Old Trafford before eventually opting for Real Madrid, while both Thomas Muller and Arjen Robben rejected the chance to reunite with their former manager.
And despite spending £150m in rebuilding their side, former Barcelona manager Guardiola claims United could not have afforded his players – even if they had wanted to join van Gaal in Manchester.
"They don't have enough money," Guardiola told a press conference ahead of Bayern's Champions League clash with Manchester City. "I saw they spent this kind of money.
"It is good for my fried Louis (van Gaal). I know all the players the club want, it just depends on the player. If the player wants to stay, they stay. Manchester United wants these kind of players, but they want to stay and we are happy to be here."
Bayern begin their campaign at the Allianz Arena on Wednesday, where they previously suffered a humiliating 4-0 defeat to Real Madrid at the semi-final stage last season.
The Bavarian giants were considered favourites to retain their European crown in last season's competition before their humiliation on home soil. The club, along with Real and Barcelona, have once again been tipped for success this term but Guardiola has warned that his side and those around them must not take their participation in the competition for granted, pointing to United's absence as a telling example.
"It is a good lesson for the big clubs," Guardiola said when asked of United's failure to qualify for the competition. "They think 'we are unbeatable and strong' and they are not here and maybe next season they are out.
"That's why football is magnificent. Every single week you have to be ready. Every week you have got to show you are ready. A bad 45 minutes, and you are out. "