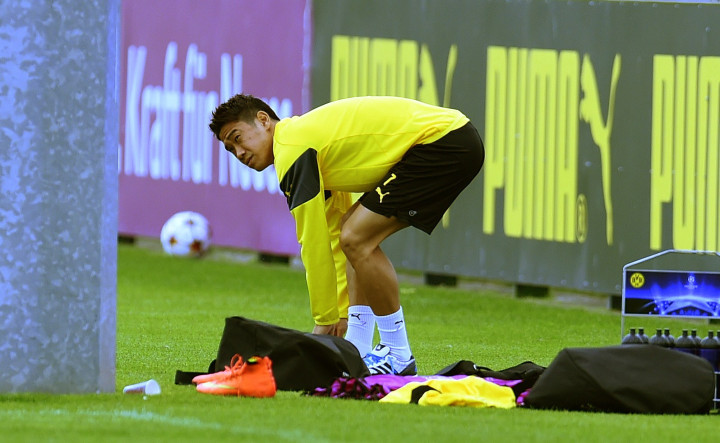 Borussia Dortmund manager Jurgen Klopp said Shinji Kagawa became unsettled at Manchester United under three different managers in as many years before returning to the Bundesliga giants in the summer transfer window.
The Japanese international was signed by Sir Alex Ferguson in the summer of 2012, but after enjoying an impressive first campaign in the Premier League, saw David Moyes appointed for his second season at Old Trafford.
Kagawa spent much of the term in and out of the United team as Moyes struggled to adapt to expectations, eventually being sacked last April after failing to qualify for the Champions League.
The 25-year-old made just one appearance under new boss Louis van Gaal before returning to Dortmund this summer, where he has begun where he left off in Germany, scoring on his second debut against Freiburg.
Ahead of Dortmund's Champions League opener against United's Premier League rivals Arsenal, Klopp says the constant changes of manager did nothing to assist Kagawa to settle in to English football.
"I was kind of surprised Kagawa was on the market again," he said. "His first year at Manchester United was Sir Alex Ferguson's last year, so that isn't the time to develop players. The only thing you want at that stage is results and titles.
"Kagawa's second year at United was the first year of the new coach, so that's also all about results. Then there was a third manager with a very successful philosophy [Louis van Gaal].
"So we saw the chance to sign Kagawa and we took it. Kagawa was sensational against Freiburg."
Speaking to The Sun on Sunday, Klopp added: "I met Sir Alex in Nyon and he's still in love with Shinji.
"He told me: 'Shame we didn't manage this well so that it worked out for him. We were satisfied in the first year.' And in the second year you usually make the next step but he didn't manage to do it. But Sir Alex was saying: 'Shame, we should have made this work.'"