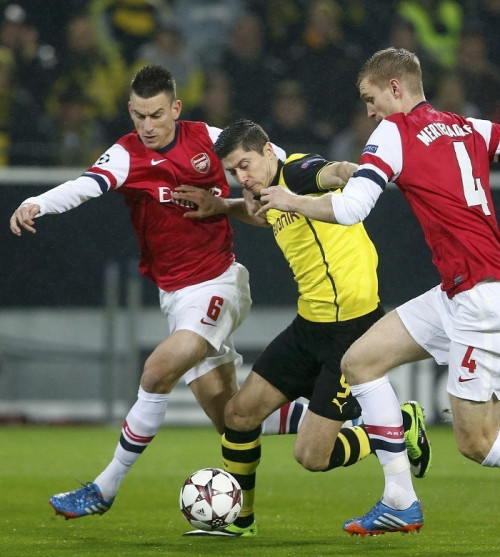 Per Mertesacker has revealed that Arsenal's win against Bayern Munich at the Allianz Arena in the Champions League was the turning point in their season, following which they went from strength to strength.
The German defender, who has been in great form this season insists that the Gunners can go on to win the title, currently perched at the top of the table.
Together with Laurent Koscielny they have developed a great understanding and hold the best defensive record among all teams currently playing in England.
The Gunners, who were berated for their lack of cohesion at the back, are slowing turning heads and the German's arrival in 2011 is a major reason behind that change.
Arsenal have been through a very bad patch over the last couple of seasons, scraping a Champions League spot ahead of Tottenham on both occasions but are now looking good to finally challenge for the title, which they last won in 2003/04.
Mertesacker believes that the fact that they managed to keep their best players while bringing in the likes of Mesut Ozil also helped a great deal in reversing their fortunes.
"When we played Bayern Munich away, after that game everyone realised that we can beat anybody in the world. That was a key point from our own point of view. We understood we could show our potential on the pitch, and consistently as well, because that's what we lacked."
In the past we had good potential, we played some good games, but we dropped points at very important stages. People recognised Arsenal as a good team, but not a serious danger for the top teams. That changed a bit at the end of last season, and we have kept it going this season," he told www.arsenal.com.
"Also we didn't lose any players in the summer, had some nice additions, so everybody was well prepared. There was a good focus on the team. Only Santi and Nacho were away at a tournament, so most of us could prepare as a group in the best way.
"Everybody knows each other well, and you can see that lately: everyone communicates and covers for each other. It's fluent right now, but we are aware that things can change quickly in football," he concluded.