Per Mertesacker has revealed that the Arsenal defence had a plan to stop Diego Costa during their FA Cup final win over Chelsea on Saturday (27 May).
Costa did score Chelsea's equaliser in the 76<sup>th minute despite the Blues being down to 10 men, but the Spanish forward was kept quiet for most of the game by Mertesacker and Rob Holding. The duo ensured that the striker did not have time on the ball and stayed close when the Chelsea defence played the ball long into the Arsenal area.
"We went to work on Diego Costa," Mertesacker said after the win at Wembley, as quoted by the Mirror.
"Rob was giving him a really hard time. I kept patting him on the back, being friendly, while Rob kept on talking to him. A good double act. It was very exciting to see how quickly things can turn.
"What was really important was that we kept on running with Costa, to make sure those long balls didn't get to him," the German defender explained.
"We were prepared for that. Especially when Fabregas came on, we were ready to run back to cut out those long balls over the top that he plays."
"You have to say it couldn't have gone much better for us. The team's performance was incredible. I don't know how many would have expected that," he added.
Mertesacker was starting his first game of the season after spending the entire campaign on the sidelines with a knee injury. The former Germany international had played just 37 minutes of football in over a year before his final appearance, but showed no signs of rust as he put in one of his best performances in an Arsenal shirt.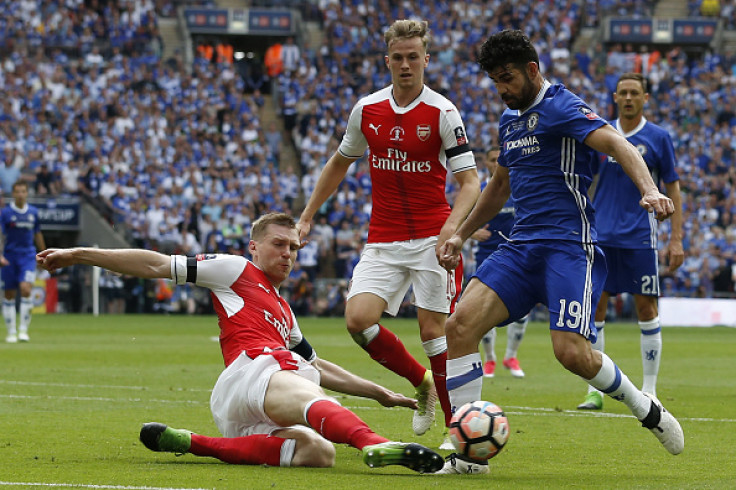 Holding was also playing the first major final of his career and the 21-year-old defender looked assured alongside his more experienced colleague. The former Bolton Wanderers defender was delighted to have kept Costa at bay.
"If Costa gets one in 90 minutes I've done my job," Holding said, as quoted by the London Evening Standard. "Chelsea are a strong team, you've seen that over the season, so we knew it'd be tough."
"A guy like Per, who has won the World Cup, is going to make it comfortable for me. He's a quality, quality player. We get on well and long may it continue.
"I'm lost for words really - I never thought I'd experience this," the England Under-21 international added.