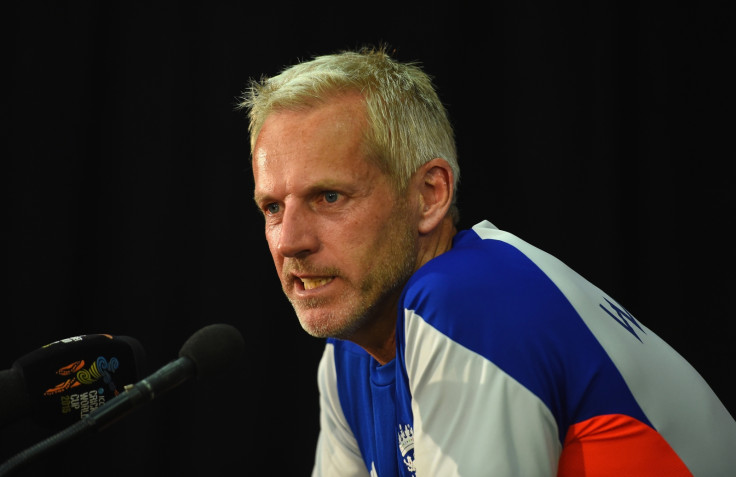 Peter Moores has blamed England's dismal World Cup campaign on a lack of experience in the wake of their humiliating defeat to Bangladesh.
England finished all out for 260 chasing a target of 275 in their penultimate group game at the Adelaide Oval on 9 March having won just one game from five in the tournament's group stage.
Speaking after the defeat, Moores stressed he believed his side's target was achievable before revealing his first reaction to the defeat was to "analyse the data".
But the under-fire coach also pointed to the lack of experience in his ranks as a pivotal factor in what is being recognised as one of England's worst competition showings in history.
Speaking to Sky Sports, Moores said: "We feel hollow, we haven't played well enough. I don't know what to say, what to feel... you feel like you've let people down. I don't think we bowled as well as we could have done in the middle but we started well and ended well. The bowlers haven't bowled as well as they wanted to do, that's been reflected in results.
"We should have chased that down tonight. We haven't got a settled team, we lost two key players at the top of the order – Jonathan Trott was our number three – we accept that and move on from it. We picked the side we thought was the best team. We went for more explosive batters but we know historically we were taking a risk because more experienced teams do better in World Cups."
In comments also picked up by Sky Sports, Moores elaborated on his side's lack of experience, highlighting their inability to suitably replace Alastair Cook, who was replaced as captain by Eoin Morgan in December 2014, as another reason for their failings.
He said: "We have lost two key players at the top of our order in Jonathan Trott and Alastair Cook and we have young players who haven't been to the World Cup before so we are not as experienced as other teams."