Peter Schmeichel: I fear for Manchester United if Pep Guardiola becomes their next manager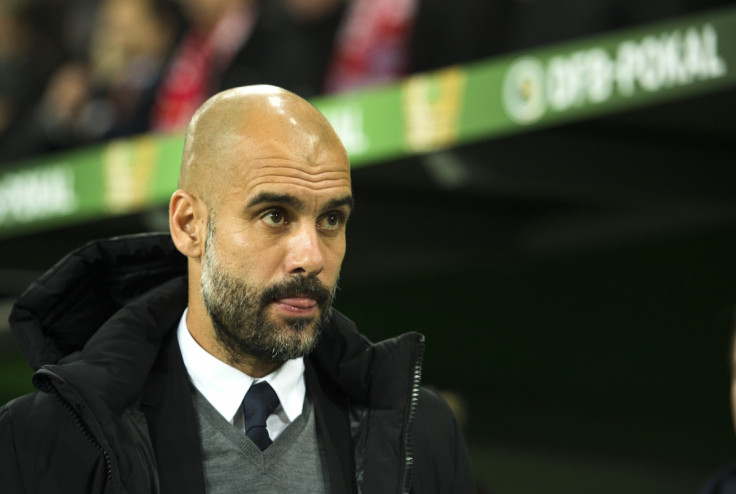 Pep Guardiola would ruin Manchester United's reputation as an attack-minded team if he took over at the Old Trafford club, according to former goalkeeper Peter Schmeichel. Guardiola is yet to sign a new contract with Bayern Munich, with his current deal due to expire at the end of the season. His future has been widely discussed.
Manchester City have been linked with a move for Guardiola, who earns £14.8m a year according to Forbes, with The Sun (according to Eurosport) suggesting the club are ready to offer the two-time Champions League winner a £100m contract across five years. Despite winning the Bundesliga title in each of his first two seasons in charge, Guardiola has been criticised for reinventing the club's style of play since the departure of Jupp Heynckes – who won the treble in his final season.
Louis van Gaal is coming under similar pressure amid a run where his United side have scored once in their last four matches, with the Dutch coach panned for a methodical style of play that is nullifying their attacking threat. Schmeichel fears that Guardiola, should he ever move to the Theatre of Dreams, would be a continuation of that much-maligned style.
"This is my biggest fear that someone like Pep Guardiola will become the next Manchester United manager," he told Sky Sports. "Guardiola has a way of playing, he has a system and he sticks to that. He has changed Bayern Munich from what I thought was a fantastic treble-winning team under Jupp Heynckes.
"[They played] quick football, through the middle, using the width of the pitch, but they were passing the ball and killing everyone they played against. He started to make them pass the ball sideways and I don't think they are as exciting as what they were."
"There are former players in the media very critical of the way he [Van Gaal] plays the game," the Dane added. "One player, Andrei Kanchelskis, says he has them playing like robots and I kind of agree with that a little bit because the manager should not decide how the Manchester United players are playing the game.
"The players are good enough to play the game themselves within a system that the club plays and has been playing for years and years. It worked for Holland because he had players like Arjen Robben, who was in incredible form, but I think Manchester United is much bigger than that.
"I think Manchester United is a much bigger club than any manager in the world and the manager who comes in should respect what Manchester United is. At the moment, I'm not seeing the way I'd like to see Manchester United play. With a club like Manchester United that have history and traditions, I think the manager at the club should respect that."
© Copyright IBTimes 2023. All rights reserved.