Michael Carrick has shrugged off criticism of Manchester United's style of play by suggesting things were not always so rosy in the glory days under Sir Alex Ferguson. A tense Old Trafford voiced its frustration as United, having failed to score in three straight matches, pressed for a goal against CSKA Moscow in the Champions League in midweek.
Louis van Gaal's second-half decision to take off Anthony Martial and send on Marouane Fellaini drew loud boos from the home crowd, but the move paid off as Wayne Rooney scored a 79th minute winner to send United top of Group B. Carrick, who played the full 90 minutes against CSKA, defended Van Gaal and rejected claims that the Red Devils were too cautious in their approach.
"I don't think it's more conservative. I thought tonight was more dynamic and aggressive in terms of attacking and getting forward quickly and getting crosses in the box," Carrick was quoted as saying by the Independent. "If you win 1-0 then the tactics don't get discussed that much. That's the way of things, fine lines.
"It's about winning. Of course we want to play exciting football and score loads of goals but it's not always easy when players are coming and putting 10 behind the ball. What do you do? Throw it in the box and hope, or do you play football and try and pass it and break them down?"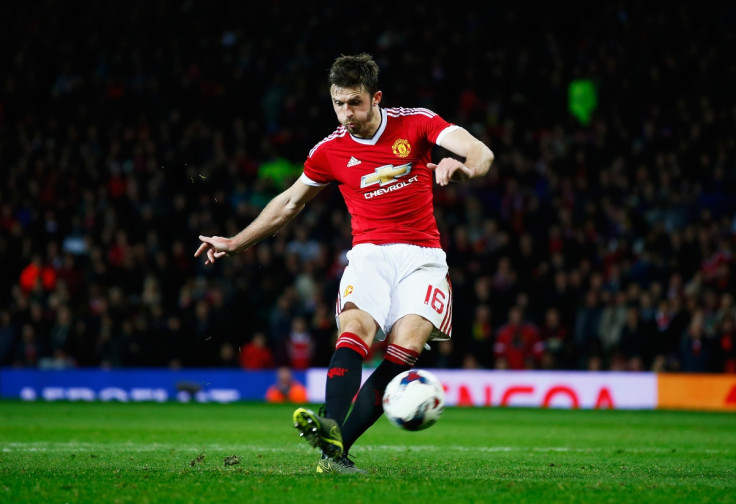 The 34-year-old continued: "I think there is an awful lot made of tactics these days. Different managers have different systems and the way they set the teams up. That's just the nature of the game," "Obviously our game is based on dominating teams with possession. But at the end of the day you have to score. So there are things as a team that we do differently but to me that's just obvious when you have a new manager and he has different beliefs."
Rose-tinted glasses
The England international also suggested fans looked back on the Ferguson years with rose-tinted glasses. "I remember nights when it didn't go well or we got beaten. There were nights like that. It's just how it is. It's how people remember things isn't it? Your childhood was always great wasn't it?" he was reported as saying by the Daily Mail.
"There is always pressure here, every time you put a shirt on and play. People will always look to judge you and that will never change. There is nothing wrong with that. It's our job to play. That's why we are at this great club. If you can't handle it or don't want it then go and play somewhere else."