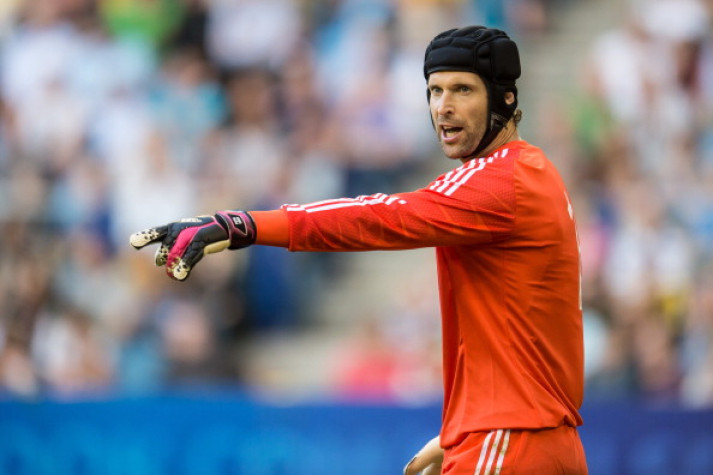 Chelsea star Petr Cech has claimed he "was ready" to replaced Thibaut Courtois as soon as the Blues' number one goalkeeper collided with Alexis Sanchez during the 2-0 victory over Arsenal in the London derby on Sunday 5 October.
The Belgium international had a collision with the Arsenal forward after just 10 minutes and was forced to leave the pitch in the 24th minute after blood was seen to be streaming from his ear.
Chelsea have confirmed the 'keeper was treated at the hospital immediately and after tests showed there was no further damage, he has received the green light to play for Belgium for their Euro 2016 qualifiers against Andorra on 10 October and Bosnia and Herzegovina on 13 October.
Number two 'keep Cech enjoyed his first Premier League minutes of the season, managing to keep a clean sheet for Jose Mourinho's side.
"As soon as that happened [Courtois' injury] I started getting ready in case he had to go off in a few minutes," Cech said to Chelsea's official website.
"I was ready for any possibilities and when I came on I felt OK."
The Czech international came on with the game still goalless before Eden Hazard scored the opener from the penalty spot, while Diego Costa killed the game in the second half to make it 2-0.
"We wanted to be tough. We wanted to be well organised and not give them space to play because you can see they have some fantastic players who, even in small spaces, can play very well with the ball," Cech said.
"We tried to reduce their movement in between the lines and not to give them time and possibilities to play through balls. We were well organised and every time we had the ball and went forward we tried to be dangerous.
"I think we played very well. The first goal changed the way the game was played a little bit but once we got the advantage I felt like we were in a very good position."
Meanwhile, the veteran keeper has heaped praise both new signings Cesc Fabregas and Costa after the Spaniard provided another great assist to his compatriot to score his ninth goal in just seven Premier League games.
"It was a brilliant pass. Everybody knows how Cesc sees the game and how important he is. He delivered another great pass and obviously Diego is there to score goals," Cech said.
"There was a lot of hard work for him to do yesterday but when he had his chance he scored the goal. Everybody is delighted with him."