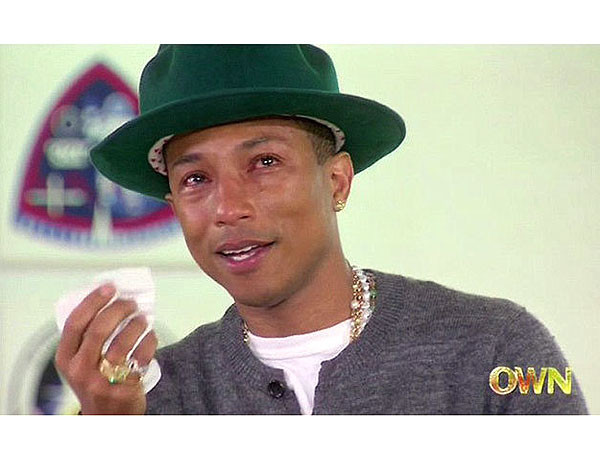 Pharrell Williams cried 'happy' tears when he broke down during an interview with Oprah Winfrey.
The singer was overcome with emotion during the one-hour interview on Winfrey's PRIME when the host played a clip of people around the world doing the "Happy dance," to Williams' Oscar nominated feel-good track.
"I don't know why I'm crying!" said an emotional Williams on seeing the video. "It makes me cry, too!" Winfrey commented.
Wearing his now trademark Vivienne Westwood hat, the singer discussed his rise to fame, his song-writing process and his marriage to model Helen Lasichanh.
A writer and producer, who had previously worked behind the scenes, with the likes of Jay-Z and Gwen Stefani, Williams described his rise to fame and how he has adjusted to life in the spotlight.
"I was happy being the guy standing next to the guy," said the 41-year-old.
Explaining how he writes a hit song he added: "My best songs come from two different ways. Either when I have a really good gut feeling about something, it's written in the shower or on a plane.
"The water attracts your ear," he added. "You get distracted, and your mind wanders."
The singer won four Grammys last year and an Oscar nomination for "Happy," and married his long time girlfriend Helen Lasichanh. They have a 4-year-old son together named Rocket.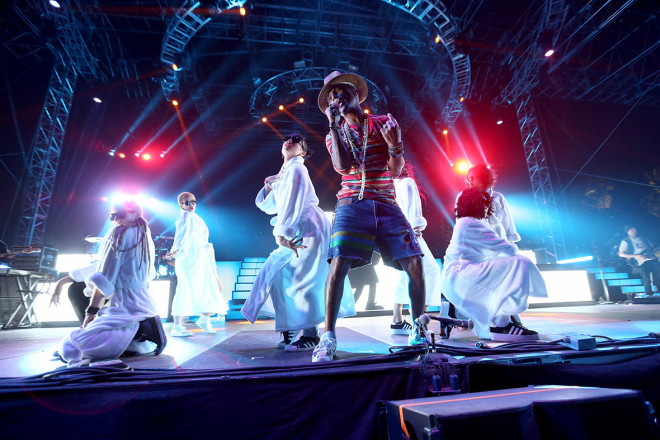 Explaining the unusual choice of name he said: "In the same way the Indians named their children after a force or animal or element, we named him after a man-made machine that was meant to go up, meant to ascend," Williams explained.
Williams made his Coachella debut lat weekend, where he was joined onstage by friends and past collaborators Snoop Dogg, Nelly, P Diddy, Tyler the Creator, Busta Rhymes, Diplo and Stefani for their tracks Hot In Herre, Drop It Like It's Hot, Hollaback Girl, and Pass The Courvoisier.
Some of the tracks were produced by Williams and Chad Hugo who made up the record production duo The Neptunes.