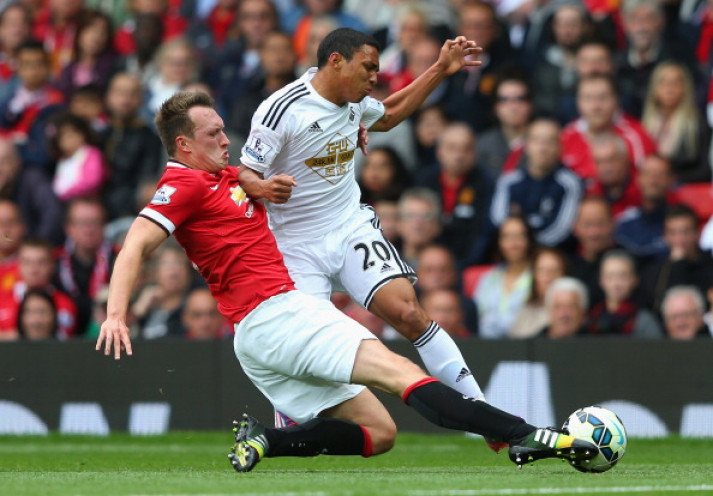 Manchester United defender Phil Jones has sent a message to Chelsea, admitting that even though the Blues are a "terrific" team, the Old Trafford club have their own threat in Angel Di Maria.
After securing a 2-2 draw against West Bromwich Albion on Monday 20 October, Louis van Gaal's side host Jose Mourinho's side with the aim of reducing the 10-point difference between them and the Premier League leaders.
Having secured seven victories and just one draw (against Manchester City) from the eight first Premier League games, Chelsea arrive at Old Trafford on Sunday 26 October unbeaten, having also thrashed Maribor 6-0 in the Champions League on Tuesday 21 October.
Jones admits Eden Hazard and Diego Costa, who remains a doubt for the game due to an injury, are "real threats" but believes they have nothing to fear as United's squad also has world-class players, including Di Maria.
"Hazard and Costa are real threats, and they've got quality all over the park. You can run through the Chelsea team - they've got good players but then so have we," Jones said, according to Manchester United's official website.
"He [Di Maria] is up there with the best, he's a fantastic footballer.
"He's a quiet lad, he goes about his business quietly around the dressing room. But he's got everything - he's got the skill, the speed, the awareness, he can score goals... and you could see it the other night, the balls he delivers are wicked and hard to defend against. He's exactly what we need."
The Blues have just conceded eight goals from eight games while scoring 23.
But Jones insists they are not "unbeatable" and United have what it takes to pick up three points against their London rivals.
"They'll keep a good solid unit defensively and basically say 'Come and break us down'. We've got to find a way to do that. I think we really need to show them what we're about and how we can play. It's important to really express ourselves and not be afraid of playing against Chelsea. They're a good team but they're not unbeatable," Jones said.
"Definitely, especially being back at home. We want to pick up all three points. We would like to have done that the other night so it's even more important that we do that on Sunday."
Jones returned to action at West Brom on Monday after missing the four previous Premier League games due to a hamstring injury.
"It was great to be back on Monday though and I'm feeling good," he said. "I'm fighting fit and ready for the games coming up."