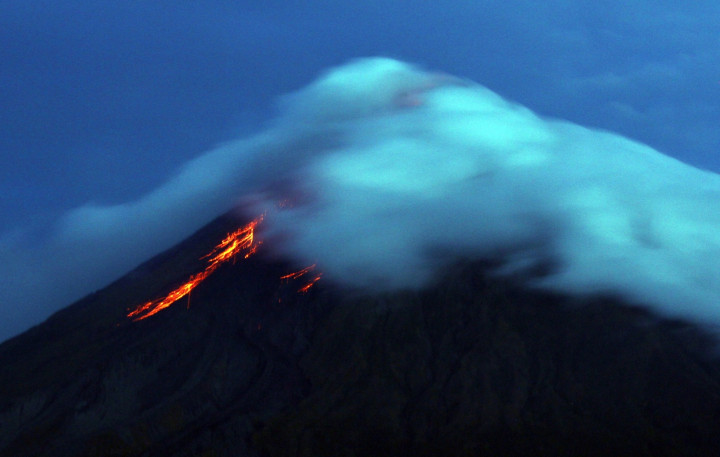 An eruption at the Mayon volcano in the Philippines could be imminent, with a second lava flow spotted as dozens of tremors have shaken the region.
An aerial survey taken of Mayon, situated in the province of Albay, showed the volcano is still showing signs of increased seismic activity although the lava flow has stopped.
A volcanologist at the Philippine Institute of Volcanology and Seismology (Phivolcs), Eduardo Laguerta, said: "The lava flow could be an indication of an imminent eruption, just like in 1984, when after the lava flow had been spotted, within two weeks the volcano erupted."
This is the second lava flow to be observed from Mayon in two weeks. The first was seen on 12 October, the first since Mayon started showing activity in mid-September.
In 1984, more than 73,000 people were evacuated from the danger zones as recommended by scientists. Over 54,000 individuals have been evacuated within the six-km permanent danger zone so far.
On Monday night, the alert level was raised to a three, suggesting magma is at the crater of the volcano and a hazardous eruption is possible within weeks.
The Most Active Volcano in the Philippines
Phivolcs told GMA News it had observed a moderate emission of white steam plumes drifting from the volcano. It also noted a faint crater glow from the centre of the dome, measuring the new lava flow to be between 300m and 400m long.
The institute said this indicates Mayon is in a "state of unrest" due to the movement of "potentially eruptible magma".
In the last 24 hours, Phivolcs has recorded 45 volcanic earthquakes and 270 rockfall events.
Rolling rockfall within the uppermost reaches of the Bonga Gully indicates that the summit lava dome is breaching the crater in its southeastern side.
"It's already erupting, but not explosive," said Renato Solidum, Phivolcs executive director. "Currently, the activity is just lava coming down. If there is an explosion, all sides of the volcano are threatened."
New ash deposits have been spotted at the slopes of Mayon and last week, sulfur dioxide emission was recorded at 272 tons a day.
Mount Mayon, a popular tourist site known for its near-perfect cone, is considered as the most active volcano in the Philippines. It has erupted 50 times in the last 500 years, sometimes violently.
In May 2013, the volcano suddenly released ash which killed five climbers who had ventured near the summit despite danger warnings.