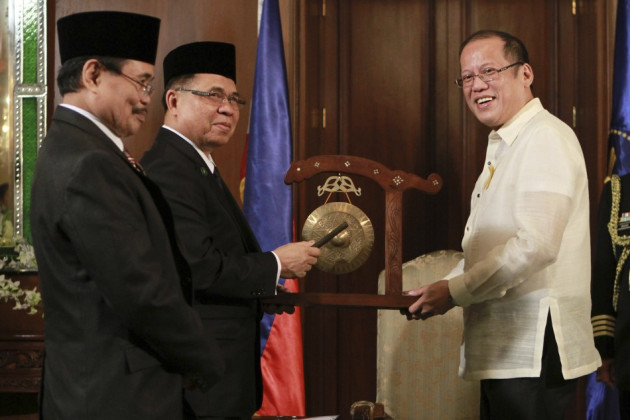 Muslim Rebels and the Philippines Government have signed an historic preliminary peace pact designed to end 40 years of violence which has killed about 120,000 people.
The framework peace plan facilitates the creation of a new Muslim-administered autonomous region in the south of the country, in exchange of the gradual disarming of the 11,000-strong rebel army.
"After four decades, peace is within reach," said Malaysian Prime Minister Najib Razak, who played a pivotal role in the signing, hosting talks in Kuala Lumpur earlier this month.
The agreement was signed by negotiators form the Filipino government and the Moro Islamic Liberation Front (MILF) under the eyes of Philippines president Benigno Aquino III, MILF leader Al Haj Murad Ebrahim and Najib.
The delegations met at Manila's Malacanang presidential palace, which no MILF leader had ever previously visited.
The new region is to be named Bangsamoro after the appellative Moros - an old-fashioned Spanish term for followers of Islam - and will include five provinces where Muslims are a Majority. Roman Catholicism is the predominant religion in the Philippines.
According to the framework, a final peace settlement is to be reached by the end of Aquino's term in 2016, as many issues are still to be discussed.
"The devil is in the details" said Aquino, warning about the extent of work that still needs to be done.
Another framework agreement signed in 2008 had been negotiated by the Philippines Supreme Court, as it would have created an unconstitutional separate state, the judges said.
In 1996 a similar pact establishing an autonomous region failed to cease hostilities.
The two factions' leaders are positive that today's signing will mark an historic page turn.
"We have to transform ourselves because we have responsibilities and obligations to our people and to Islam. We are one in supporting the decision of our entire leadership," said Sonny Davao, deputy chief of the rebel army.
However a number of small extremist groups operative in the Bangsamoro area continue to oppose the agreement and are committed to fight on.
Radical Islamist group Abu Sayyaf, believed to be linked to al-Qaeda, did not take part in the negotiations. Also a breakaway MILF paramilitary group led by commander Ameril Umbra Kato said the signing "is a surrender."
"We won't waver from our armed struggle and continue to aspire for a separate Muslim homeland that won't be a creation of politicians," a spokesman from Kato's forces said.