Typhoon Nock-Ten weakened as it headed westwards towards capital Manila after making landfall over Lubang Island in the Philippines on Monday (26 December), according to the national weather bureau. The super storm, which Filipinos referred to as Nina, was headed towards the West Philippine Sea (or South China Sea) at 20kmph speed after wreaking havoc in Bicol Islands on Christmas Day.
The super storm caused disruption to around 300 flights as of Monday morning and more flights are expected to be affected. The Philippine Coast Guard said more than 10,000 passengers were stranded at various ports across the country.
The super storm which brought heavy rains in Bicol region left three people dead in the town of Albay, the Inquirer quoted the Philippine National Police as saying. The victims were a couple in their 70s and a 57-year-old.
In its latest bulletin at 2pm local time (11am GMT) on Monday, the weather agency, Pagasa, said the eye of the storm was located in the vicinity of Lubang. The storm was packed with maximum sustained winds of 130kmph, down from the previous 140kmph, and gusts of up to 215kmph. The agency added that the tropical cyclone warning signal has been lifted.
Earlier in the day, the typhoon made its seventh landfall over Batangas City, after hitting Tingloy Island and Calatagan on Batangas Island. The storm will also make landfall in Manila before starting to exit toward the South China Sea. It is expected to bring moderate to heavy rains in metro Manila, which saw thousands of people moving to safety following warnings from authorities.
The typhoon will finally exit the Philippine area on Wednesday (28 December) morning, Pagasa said in its bulletin.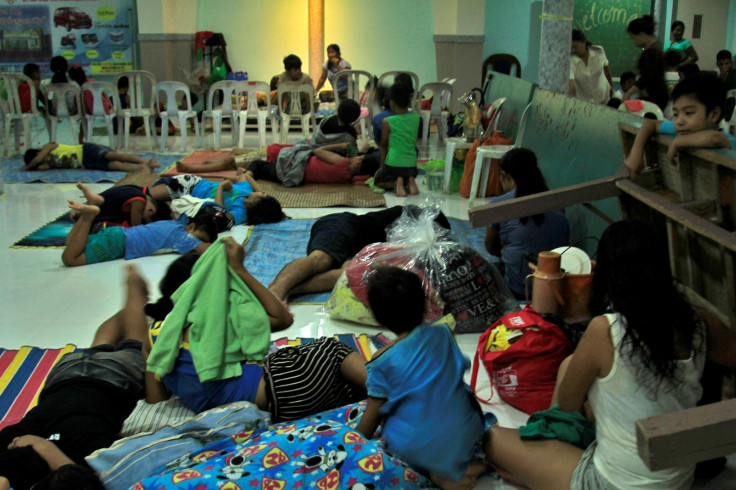 Manila International Airport Authority general manager Ed Monreal said at a televised press conference: "As of 6 'o clock this morning, we were able to account for 300 flights that were either delayed, rescheduled or cancelled," the Philippines Star reported.
Monreal said they were considering rescheduling more flights before the runway closure is lifted in the evening. "We will be open until the next day to accommodate all recovering flights," Monreal added.