3 out of 5 Americans are idiots, Duterte says reacting to US' threats of blocking aid to Philippines
Philippines President Rodrigo Duterte said that Americans should just 'shut up'.
Philippines President Rodrigo Duterte, who is facing a fresh bout of criticism over his recent admission of killing three criminals while he was a mayor of Davao city, believes that most of the Americans are idiots.
"The problem with these white people, these American blockheads, is that three out of five of them are idiots, and only two are in their right minds," he said in reaction to US' threats of cutting aid to the Philippines over the ongoing drug war.
"You Americans should just shut up. If you are destroying my country, I will kill you," Duterte reportedly said on Thursday (22 December) during an event at his official residence, the Malacañang Palace, ABSCBN News reported.
The president also hurled abuses at UN High Commissioner for Human Rights Zeid Ra'ad al Hussein, calling him an "idiot" and a "son of a b****", and threatened to burn down the United Nations building in New York.
His firebrand remarks came after Hussein said earlier in the week that he would call for a probe into Duterte's admissions of killing criminals during his mayoral term.
"You go and file a complaint in the United Nations. I will burn down the United Nations if you want. I will burn it down if I go to America," Duterte said, adding that he will "whack in the head" any UN observer who would investigate the extrajudicial killings of drug suspects under his "war against illegal drugs", Newsline.com reported.
According to the Philippines Star, Duterte also explained that he does not endorse extrajudicial killings. He also said that there was no crime in threatening to kill criminals and drug lords.
"We do not kill our own fellowmen. Of course it hurts to see a Filipino die in front of you. Of course it is despicable," Duterte added.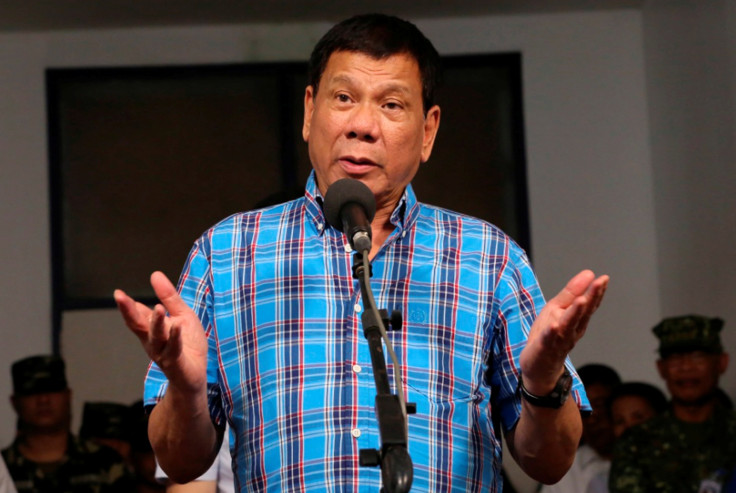 Meanwhile, Filipino Senator Panfilo Lacson came out in defence of the president, saying Hussein should first study the Philippine constitution and laws before making suggestions.
"Apparently, the UN rights chief is not familiar with, first, our President enjoys immunity from suit during his term.
"Second, no matter how many times a person in our country admits having committed murder, as long as there is no other evidence to corroborate his extrajudicial confession, the case cannot stand in any court of law," he reportedly said.
Lacson also said the UN official can "shout to high heavens to investigate the President but unfortunately for him, he can't get past that call".
© Copyright IBTimes 2023. All rights reserved.